Music
Stray Kids Return with '5-Star' Album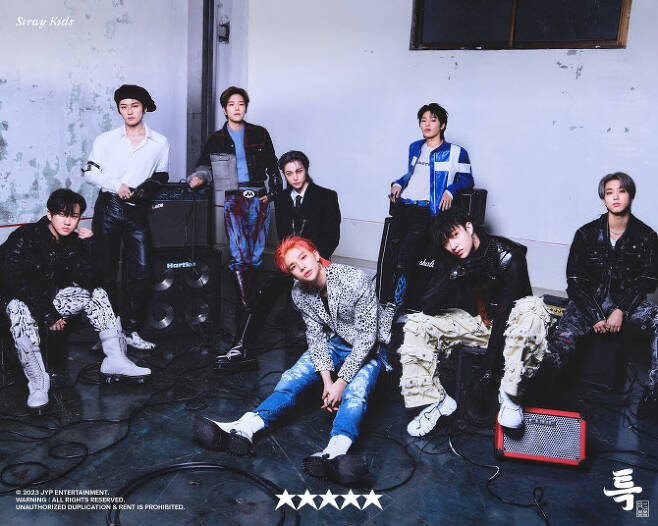 "We hope that our new album will become a special and meaningful album for many people. Believing that there is something special within you, we, Stray Kids, will always cheer you on with confidence and courage no matter what you face. Please give lots of love to Stray Kids' third full album 'Five Star!"
On June 2, at 1 PM, Stray Kids released their third full album 'Five Star' along with the title track 'Special', expressing their feelings on the comeback in this way.
As of the 1st of the month, 'Five Star' surpassed 5.13 million pre-orders. They set a new record once again after achieving the 'Most Pre-Orders Ever in K-Pop' with 4.93 million pre-orders as of the afternoon of May 30th. In 2022, they topped the U.S. Billboard Main Album Chart, the Billboard 200, twice in a row with the mini-albums 'Oddinary' and 'Maxident' released in March and October, respectively. 'Maxident' surpassed 3 million cumulative sales on the Circle Chart just a month after its release, achieving 'JYP Entertainment's first triple million seller'.
In April of this year, Stray Kids successfully completed their second world tour 'Maniac', spanning 42 performances across 18 regions worldwide. After a year-long journey, they have confirmed their massive global popularity and influence by accomplishing meaningful achievements such as entering Seoul's K-Sports Dome, Japan's Kyocera Dome in Osaka, and being the second K-pop male group to hold and sell out a stadium performance in North America. The title track 'Special' is a piece that encapsulates the musical talents of Bang Chan, Changbin, and Han from the in-house producing team 3RACHA, who have produced all the title tracks since their pre-debut song 'Hellevator' in 2018, raising expectations among K-pop listeners.
The members share their stories ahead of the release of their new album 'Five Star' today.
-You're back with the third full album 'Five Star' that radiates confidence just from the title after about 8 months. I'm curious about your feelings on the comeback.
△"Being our third full album, it brings both tension and anticipation. Given that it's a special album, we've prepared a lot and we hope that many listeners worldwide, along with our fans (fandom name: STAY), will enjoy it." (Bang Chan)
△"I'm excited and happy to come back with a song to cheer up our STAY after about eight months. I hope it's a song and album that will be remembered as special by the public." (Lee Know)
△"This album came about after a lot of thought and contemplation for our STAY, who always look forward to the 'next Skz'. We poured everything into it to meet everyone's expectations." (Changbin)
△"It's been about two years since our second full album 'NOEASY' in August 2021, and we've prepared harder for this new full album comeback. I'm really excited and thrilled." (Hyunjin)
△"While I'm excited, there's also a part of me that feels the pressure. But it's an album we're confident in and worked hard on, so I hope many people will like it." (Han)
△"I'm excited and nervous about making a comeback after eight months since 'Maxident'. We'll show you the true color of Skz after a long time." (Felix)
△"I really felt the need to return with a quality befitting our third full album. We've poured our hearts into each song, and more than anything, we've prepared hard for a long time with the members to create an album that would satisfy our fans who have been waiting for so long." (Seungmin)
△"I'm very excited and anticipating a lot for this full album that we're releasing after a long time. I hope many people will like it." (I.N)
- With the exceptional global achievements, did the high expectations not come as a pressure while preparing the new album? If there are any driving forces or secrets that push Stray Kids to achieve new career highs, what might they be?

△"I believe we achieved this together because our STAY from all over the world sent us their unlimited love. We want to continue running with the power of being loved as our driving force." (Lee Know)
△"High achievements can sometimes feel like a burden. However, since we feel the love from our fans even stronger, our desire to perform well on many stages also grows." (Hyunjin)
△"In this work that began out of love, our love for music remains unchanged, which is why I think we can keep working hard. Although high expectations and attention can be burdensome, I also appreciate them, and I want to grow as a singer who can send strength to many people through music." (Seungmin)
- The title of the song has been revealed and it received a reaction saying, "This is like Stray Kids." The source of inspiration that shines through the title, lyrics, and sound of the song is intriguing.

△"We worked on the song with the idea of 'let's create a song that clearly marks the color and presence of Stray Kids.' It's a song where you can feel our unique confidence, and we wanted everyone around the world to gain confidence while listening to our song." (Bang Chan)
△"I think they're the results that came out during the process of continuously contemplating our image that many people are expecting. Not simply passing by interesting thoughts, but remembering and noting them down seems to be a great help." (Changbin)
△"The title song came out as a result of thinking 'What could express our uniqueness and specialness.' I think it's a song that was achieved with a lot of effort." (Han)
- The title of the album along with the title song 'Teuk' radiates an extraordinary energy. The new song that has Stray Kids' stamp on it is really exciting. Please introduce the 'special and unique' charm of the 2023 first comeback title song 'Teuk'.

△"The new and unique song composition and witty lyrics seem to highlight the 'Skz-ness' even more. And Producer Park Jin-young didn't hold back his praise when he heard the song!" (Changbin)
△"Yes, indeed. Producer Park Jin-young even came to the filming site of 'Teuk' music video to cheer us on. It's an unusual, peculiar and fun song. Please pay attention to the song structure that breaks through conventions and many points that hit your ears while keeping the color of Skz alive." (Seungmin)
△"As soon as I first heard it, I thought, 'This is it.' It was a song that stayed in my memory for a long time, and it was a song that had to be this one. It was a very special and shocking song for me, and I hope it becomes such a song for STAY as well." (I.N)
-Track 4, 'Superball', and Track 10, 'Beautiful', are Stray Kids' first original English songs. I'm curious about the reason behind presenting original English songs. Was there a special reason or motivation for writing lyrics in English?
△ "'Beautiful' is a song written with the desire to collect and recite back the kind words our STAYs give us. We wanted to present the message 'You are beautiful in your own way' to all STAYs around the world, so we wrote the lyrics in English." (Bang Chan)
△ "We thought about expressing our color more widely through original English songs like 'Superball' and 'Beautiful', and we wrote lyrics in English hoping that our message would resonate with STAYs around the world." (Felix)
-If the members were to rate the third full-length album 'Five Star' themselves?
△ "As the name suggests, I'd like to give it 5 stars. It's an album filled with confidence and pride." (Changbin)
△ "Definitely 5 stars. I think the audience will never get bored since it's the most peculiar among peculiar albums." (Hyunjin)
△ "I also give it 5 stars. This album contains a variety of great music and many side tracks that are as good as the title track, so it's fun to listen to." (I.N)
-You have successfully completed the second world tour 'MANIAC', which spanned 42 shows in 18 regions worldwide this year. I am curious about your thoughts now that you have finished this epic journey of nearly a year. Was there a moment when you felt the scale and size growing as you went on the tour? Also, I'm curious about the special moments you want to reflect on with your fans.
△ "Every moment of the tour felt like a dream. It was truly a great happiness to sing and play in the same space with the cherished members, staff, and our most cherished STAYs. I can't forget the memories we made looking at the shining eyes of each STAY. I want to communicate with fans around the world through tours as soon as possible." (Bang Chan)
△ "We started in Seoul and finished at the North American stadium. During the 'MANIAC' tour, we were able to feel the increasing number of people supporting and loving us through the loud cheers and shining eyes." (Lee Know)
△ "During the 'MANIAC' tour, we had our first solo concert at the Japanese Dome. I remember the stage going up like an elevator and the grand scale. Especially during all the tours, I was deeply moved every time I heard the voices of STAY on stage." (Felix)
-Are there any records you'd like to rewrite with the ambitiously prepared third full-length album? What unique charm would you like to show to STAY through the third full-length album activities? How about a little spoiler?
△ "We will meet STAY through various contents such as music shows and fan meetings! We hope that with the new album, STAY and Stray Kids will continue to write new history. We sincerely thank you." (Han)
△ "With the 'MANIAC' tour, we met STAY from the Dome to the stadium. If we were to embark on a new world tour along with the activities of the third full-length album, we would like to stand on a bigger stage for a solo concert and create precious memories with more fans." (Hyunjin)
△ "I hope it will be a good album that will be remembered in the history of Stray Kids' growth and in many people's memory when looking back. I'll come back with a changed hair color after a long time!" (Seungmin)