Music
Record-Breaking 4.93 Million Pre-Orders for Stray Kids' Return with 3rd Album: Anticipation Skyrockets for D-2 Comeback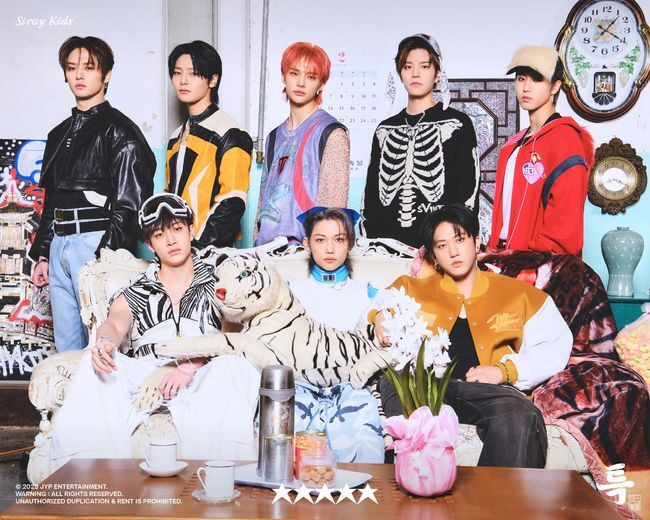 Stray Kids are setting unprecedented records in K-pop, shining like a star in the music industry.
Stray Kids are set to make a comeback with their third full-length album, '5-STAR,' and the title track, 'Singular,' slated for release on June 2nd. This marks their first full album in about two years since 'NOEASY' in August 2021, and the group is poised to outdo themselves with the quality of this latest work, declaring it the most unusual and special among their discography.
Breaking Records with 4.93 Million Pre-Orders
As of May 30th, the pre-orders for Stray Kids' 3rd album '5-STAR' surpassed an impressive 4.93 million copies, more than doubling the 2.37 million pre-orders for their previous album 'MAXIDENT'-also JYP Entertainment's first triple million-seller. This achievement sets a record for the most pre-orders in K-pop history, signaling a major success for the new album.
The record-breaking 4.93 million pre-orders are a shining testament to their steady growth and achievements. They climbed the U.S. Billboard main chart, the 'Billboard 200', twice with their mini-albums 'ODDINARY' and 'MAXIDENT', released in March and October of last year. Moreover, 'MAXIDENT' sold over 3 million copies, becoming JYP's first million-seller just a year after the release of 'NOEASY'. Following their second world tour, which included 42 concerts in 18 cities worldwide and featured sell-out performances at iconic venues such as the KSPO DOME, Kyocera Dome in Osaka, and various North American stadiums, Stray Kids are writing yet another chapter in their history just ahead of their 2023 comeback.
Pouring Exceptional Self-Producing Capabilities into Their Work
Stray Kids' confidence, as proven by their new records, has its roots in their first full album 'GO LIVE' in 2020, featuring the title track 'God's Menu'. In the lyrics of 'God's Menu', they proclaimed, "Cookin' like a chef I'm a 5 star Michelin," a self-bestowed title of '5-STAR' that they now proudly display on their latest album. Stray Kids' in-house producing team 3RACHA, consisting of members Bang Chan, Changbin, and Han, have written and composed all the tracks in the album, including the title track 'Singular'.
The new song 'Singular' stands out with its unique and special attributes, representing the inherent individuality of Stray Kids and adding elements of challenge and novelty. The song's name, which denotes top-grade when paired with any other word, and unique lyrics like "Shine brightly, shine brightly, shine brightly, class is singular," show the pride of the group that has reached the top through tireless efforts.
Coming Soon: The Premier Serving of K-pop's S-Class Music
Stray Kids, known for elevating the musical tastes of fans worldwide, have prepared a full course of '5-star' music with twelve self-composed songs, including the title track 'Singular'. Teasers for some of the songs like 'DLC', 'FNF', 'Let's Die', 'TOPLINE (Feat. Tiger JK)', and 'Youtiful' were unveiled early via their signature teasing content 'UNVEIL: TRACK', stirring listeners' appetites. The anticipation for the full course of their 3rd album '5-STAR' reached its peak with a 'mash-up video' showcasing snippets of all the songs and a blockbuster-style music video teaser for the title track.
From their pre-debut song 'Hellevator' in October 2017, which declared their ambition to start from the bottom and aim for the top, Stray Kids in June 2023 are set to rise above the highest peak they've dreamt of. Stray Kids' 3rd album '5-STAR' and title track 'Singular' will be officially released on June 2nd at 1 PM (12 AM EST).