Business
No Longer Riding on BTS's Coattails: HYBE's Rookies Experience Meteoric Rise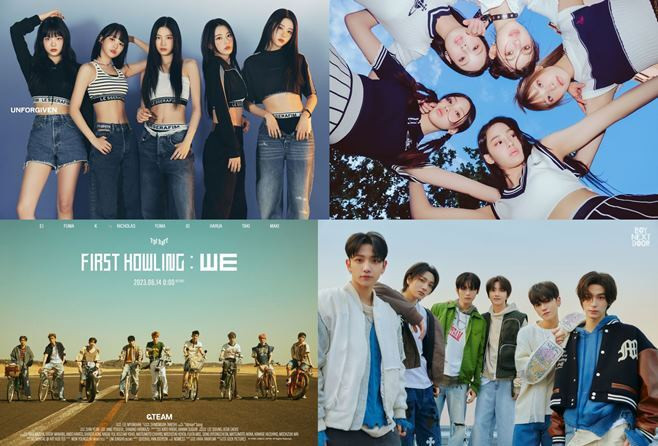 Despite concerns that HYBE might lose its growth momentum as BTS enters their military service period, these fears are entirely unfounded. HYBE's rookie groups have been growing rapidly in a short span, acting as a strong upward momentum.
The influential American business magazine Forbes recognizes 30 notable young individuals in 10 fields every year, including art, marketing, technology, finance, distribution, and healthcare. Recently, it announced the 'Forbes 30 Under 30 ASIA 2023', and proudly included LE SSERAFIM from Source Music and NewJeans from Adore under HYBE Labels.
Forbes took notice of the global influence of the two groups. Despite debuting only last year, they have been highly rated for their potential for exponential growth, based on factors such as music video views in the hundreds of millions.
LE SSERAFIM has been storming the charts with their first full album 'UNFORGIVEN', released on May 1st. They broke K-pop girl group records by entering the 'Billboard 200' at number 6 in the shortest period, and they have successfully stayed there for two consecutive weeks.
They are also experiencing success on Spotify, the world's largest streaming service. Their title track 'UNFORGIVEN (feat. Nile Rodgers)' has been on the 'Daily Top Song' chart for 22 consecutive days (May 1-22), demonstrating their global popularity. They also achieved a record-breaking initial sale of 1.25 million albums based on Hanteo Chart in South Korea.
NewJeans is also demonstrating their syndromic popularity. They have achieved the fastest accumulated 1 billion streams on Spotify amongst K-pop artists, making it into the Guinness records. They have stayed on the Billboard Main Singles Chart 'Hot 100' for 6 and 5 weeks with 'OMG' and 'Ditto' respectively. In South Korea, they swept the top three places on the Melon chart for three consecutive months (January to March) with 'OMG', 'Ditto', and 'Hype Boy'.
NewJeans is also the only K-pop artist to be selected as one of TIME's '2023 Next Generation Leaders' this year. They are set to perform at the American festival 'Lollapalooza' in Chicago this August, marking a first for a K-pop girl group.
&TEAM, the group that stormed the Japanese music market as soon as they debuted, will now begin their activities in South Korea. &TEAM is the first global group introduced by HYBE Labels Japan. Their debut album 'First Howling: ME' released in December last year topped major local charts like Oricon and Billboard Japan. Attention is focused on their activities to unfold in Korea in June. Their new album 'First Howling: ME', which will signal the start of their Korean activities, will be released on June 14.
HYBE is also introducing a new boy group based on their 'HYBE Success DNA'. A long-term project by KOZ Entertainment under HYBE Labels, the 6-member group BOYNEXTDOOR, has finally lifted their veil. With HYBE's rich infrastructure and the style of KOZ Entertainment's production team, led by top producer Pop Time, they have produced an album with both popularity and musicality. They have already proved their high level of interest in their debut by causing explosive reactions to each content released. Their debut single 'WHO!' will be released on May 30 at 6 PM.