Music
BTS, Seventeen, TXT, Le Sserafim, Taking the U.S. Billboard by Storm with Long-running Success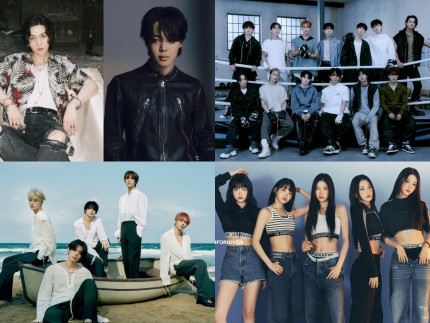 Artists from HYBE Labels such as BTS, Seventeen, TXT, and Le Saerafim have signaled another long-running hit, further solidifying their global presence alongside record-breaking achievements.
On May 24 (KST), Big Hit Music, Pledis, Source Music and other HYBE Labels cited recent US Billboard announcements, stating that BTS, Seventeen, TXT, and L'CERA are making waves with new charting feats.
As reported, BTS, Seventeen, TXT, and Le Saerafim are impressively showcasing their Billboard activities in various forms including new album long-runs and unexpected resurgence of previous albums.
First off, BTS has been making global records with SUGA's (Agust D) solo album 'D-DAY' (ranked 51st on Billboard 200, World Album 3rd, Top Current 8th, Top Album Sales 9th, Top Rap Album 13th) and Jimin's first solo album 'FACE' and its title track 'Like Crazy' which is dominating global charts (non-US 26th, Global 200 39th, World Album 7th, Top Current 38th, Top Album Sales 59th).
Moreover, the movie 'Fast & Furious: Ride or Die' OST 'Angel Pt. 1' featuring Jimin (R&B/Hip-Hop Digital Song Sales, Rap Digital Song Sales 5th, Digital Song Sales 27th), and the new group song 'The Planet' by 'Bestiens' (World Digital Song Sales 1st, Digital Song Sales 6th, Global (excl. US) 37th, Global 200 62nd), are adding to the chart records, bolstering the group's presence.
Seventeen continues to make strides on the main chart. Their 10th mini-album 'FML' entered the 'Billboard 200' for the third consecutive week (40th), proving their global influence.
Notably, they have demonstrated their rising popularity by ranking high in album-related charts (World Album 1st, Top Current Album Sales 5th, Top Album Sales 6th) and maintaining a high position (24th) in 'Artist 100' for three weeks.
TXT is also recording thrilling Billboard results. TXT's 5th mini-album 'The Chaos Chapter: TEMPTATION' has climbed 17 places from the previous week to 160th on the 'Billboard 200', extending their consecutive charting record to 16 weeks.
Moreover, they are actively participating in several charts including Top Album Sales 14th, Top Current Album Sales 13th, World Album 5th, Artist 100 72nd. Such activity is expected to solidify their presence as a representative of the 4th generation in conjunction with the steady rebound of their new world tour <ACT: SWEET MIRAGE>.
Le Saerafim has successfully double-charted with their title song and new song, solidifying their emergence as a new global girl group. Their first full album 'UNFORGIVEN' has achieved two consecutive weeks on the 'Billboard 200' (46th), predicting a consistent record rally with top 10 records in three categories: 'World Album' 2nd, 'Top Current Album Sales' 9th, 'Top Album Sales' 10th.
In addition, their new title song 'UNFORGIVEN (feat. Nile Rodgers)' is making waves (World Digital Song Sales 9th, Global (excluding US) 19th, Global 200 36th) alongside the title song 'ANTIFRAIGLE' from their 2nd mini-album which is charting globally (excluding US) for 31 consecutive weeks (172nd), proving their worth on the 'Artist 100' 42nd place as the global topic of conversation.
In this way, HYBE Labels artists BTS, Seventeen, TXT, and Le Saerafim are further establishing their global influence based on the intersection of long-running hits and new record-breaking achievements.