Celebrity
BLACKPINK and TWICE: The Veteran 'Sisters' Playing in a League of Their Own
As we delve into the epoch of '4th generation girl groups', burgeoning bands with two to three years under their belt have been making notable strides in the music charts. Amidst this dynamic shift, BLACKPINK and TWICE, titans of the 3rd generation girl groups, continue to dazzle fans with their extraordinary feats in their respective realms.
#BLACKPINK's Reign: Dominating Coachella and Flourishing Solo Careers
Embarking on their 'PINK ONE' world tour last October, which rallied a crowd of 1.5 million, BLACKPINK solidified their stature as K-pop's premier girl group by becoming the first K-pop artists to headline the US's largest music festival, Coachella.
Continuing their global stride, they are set to proceed with stadium tours across four North American cities and Paris, France. What's more, they are scheduled to make history once again this July as the first K-pop artists to headline the renowned 'British Summer Time Festival' at Hyde Park, UK.
Even as they approach their seventh year since debut in 2016, they show no signs of wavering despite contract renewal talks. As a testament to their robust team dynamic, the members are concurrently scaling new heights in their individual careers.
Jisoo, who made her solo debut last March, has continued to captivate with her title track, 'Bloom.' Showcasing an intriguing blend of unique bass sounds, minimalist arrangement, poignant lyrics, and melody, her distinctive vocals truly shine.
The track notably garnered a steadfast momentum on the charts, maintaining a top-tier position even a month after its release, and has held its ground, thereby demonstrating impressive longevity. 'Bloom' topped iTunes song charts in 64 countries, including the US, and secured the second spot on the Billboard Global 200 and Billboard Global Excl. U.S charts. Jisoo set a new record for K-pop female solo artists, entering Spotify's Global Daily Top Songs and the UK's Official Singles Top 100 charts at 6th and 38th places, respectively, and broke the 100 million streaming mark on Spotify in just 32 days.
The track's corresponding album, 'ME,' which featured 'Bloom,' also achieved a remarkable feat. In the first week of its release, it sold over 1.17 million copies, setting a new record for initial sales by a K-pop female solo artist. Moreover, the music video for 'Bloom' surpassed 200 million views on YouTube within approximately 40 days of its release, reconfirming BLACKPINK's queen status on the platform.
While Jisoo made waves in music, Jennie furthered her accomplishments as an actress. She made her acting debut in HBO's original drama 'The Idol,' directed by Sam Levinson, which was invited to the non-competitive category of the 76th Cannes Film Festival, granting Jennie the opportunity to grace the Cannes red carpet.
'The Idol' paints a comprehensive picture of the music industry, revolving around a rising pop idol and her relationships. The series boasts a star-studded cast, including The Weeknd, Lily-Rose Depp, Troye Sivan, and of course, Jennie. She is set to attend the screening on May 22nd.
Jennie isn't the only member to have received an invitation to Cannes. As the global ambassador for Saint Laurent since 2020, Rosé has already strutted down the Cannes red carpet. Invited by Saint Laurent, she attended the film festival and heated up the scene at the red carpet event for the premiere of 'Monster' by Hirokazu Kore-eda on May 17th.
Furthermore, Lisa has etched her name into the Guinness World Records with her solo album 'LALISA,' released in 2021. The album surpassed one billion streams on Spotify within 595 days of its release, a first for a K-pop solo album.
With this, Lisa now holds a total of seven Guinness World Records, the most for any K-pop solo artist. She also recently attended the 'Bulgari Mediterranean High Jewelry Collection' event in Venice, Italy, where she stood out among celebrities such as Anne Hathaway and Zendaya with her stunning looks.
#TWICE Makes History as the First K-pop Girl Group to Conquer Japanese Stadiums
TWICE continues to outshine with their extraordinary feats. The group recently solidified their local popularity by becoming the first K-pop girl group to perform in a Japanese stadium, a testament to their monumental success.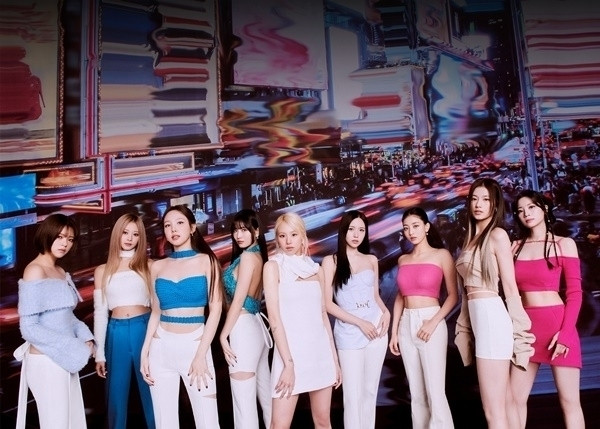 Back in March 2019, TWICE made history by becoming the fastest foreign artist to hold a concert at Tokyo Dome after their debut. Then, in April 2022, they achieved another milestone by being the first K-pop girl group to hold three consecutive sold-out shows at Tokyo Dome. Now, TWICE has outdone themselves once more by performing at a Japanese stadium, further illuminating their unique standing in the industry.
The concerts took place on the 13th and 14th of this month at Yanmar Stadium Nagai in Osaka, Japan. The performances will continue on the 20th and 21st at Ajinomoto Stadium in Tokyo, totaling four shows and drawing 220,000 local fans.
Currently, TWICE is meeting their global ONCEs (fans) through their fifth world tour, 'Ready To Be.' Kicking off the tour on April 15th and 16th at KSPO Dome in Songpa-gu, Seoul, the group then moved to Australia, performing in Sydney on May 2nd and 3rd (local time), and in Melbourne on the 6th and 7th. They continued with their Japanese performances in Osaka on the 13th and 14th, and are set to perform in Tokyo on the 20th and 21st.
After Tokyo, TWICE will take on the United States with performances in Los Angeles on June 10th, followed by shows in Oakland on the 12th and 13th, Seattle on the 16th, Dallas on the 21st, Houston on the 24th and 25th, and finally Chicago on the 28th and 29th. In July, they will head to Toronto, Canada, on the 2nd and 3rd, followed by a performance in New York on the 6th, and then Atlanta on the 9th, totaling 23 performances in 14 global regions.
In May of last year, TWICE made their U.S. stadium debut with an encore performance at the Bank of California Stadium in Los Angeles. This June, they will continue the 'stadium-scale' tour in North America, with performances at SoFi Stadium in Los Angeles and MetLife Stadium in New York in July.
In September, TWICE will embark on their first-ever European tour. Following a performance in Singapore on September 2nd, the group will journey through Europe, with concerts in London on the 8th, Paris on the 11th, and Berlin on the 14th. They will then head back to Southeast Asia for concerts in Bangkok, Thailand, on the 23rd, and Bulacan, Philippines, on the 30th.
Alongside their concert activities, TWICE will continue their album promotions. The group is set to release a new single, 'Hare Hare,' in Japan on May 31st. Additionally, in July, the Japanese members of the group, Mina, Sana, and Momo, will debut their first sub-unit, MISAMO, in Japan.