Celebrity
A Wink to Remember: IU Captivates Taiwan's Actor Xu Guanghan at the Baeksang Arts Awards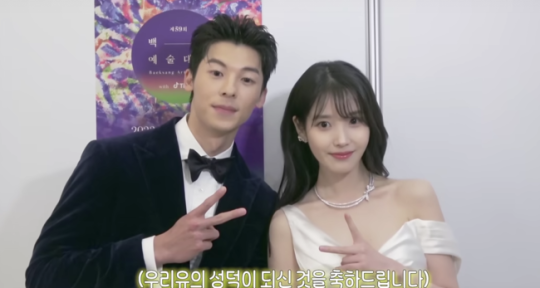 Recently, IU (Lee Ji-eun) shared a snapshot with Taiwan's actor Xu Guanghan at the 'Baeksang Arts Awards.'
A video titled '59th Baeksang Arts Awards Behind Film' was released on IU's official channel, showcasing the memorable moments from the event.
During the awards ceremony, IU, who was honored with the popularity award, expressed her gratitude, "I'm very thankful for UAENA who diligently voted for me. I've been busy shooting for a new drama, and I appreciate the invitation to this event."
She then discussed her recent film, 'Dream', saying, "The movie 'Dream' has recently been released, and I am meeting with audiences. You can currently catch it in theaters, so I hope 'Dream' also receives a lot of love."
The highlight of the video was when Taiwanese actor Xu Guanghan made a beeline for IU. He had previously disclosed in an interview that he is a die-hard fan of IU, going as far as to watch her videos right up to the start of the interview. Standing nervously next to IU, Xu Guanghan once again confirmed his fan status. IU, on her part, delivered her killer wink, captivating all eyes as they snapped a photo together in a delightful display of fan service.
In other news, actor Lee Jong Suk and IU officially acknowledged their romantic relationship on December 31 last year. The two have also recently warmed hearts by making donations on Children's Day.