Movies
Despite Plagiarism Allegations, IU's Resilience Shines on 'Dream' Movie Stage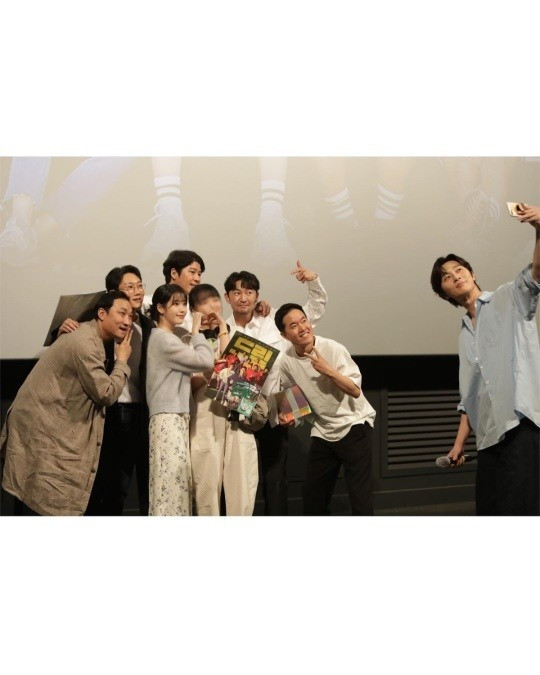 Despite recent tumult due to allegations of plagiarism, IU, South Korea's beloved singer-songwriter, made a radiant appearance on the official stage greeting for her new movie 'Dream.'
On the afternoon of the 13th, the greeting event for the movie 'Dream' took place at CGV in Yongsan, Seoul. The event was attended by the main cast, including Park Seo-joon, IU, Kim Jong-soo, Ko Chang-seok, Jung Seung-gil, Lee Hyun-woo, Yang Hyun-min, Hong Wan-pyo, Heo Jun-seok, and director Lee Byung-hun.
On this day, IU displayed a vibrant look, donning a floral dress with a light cardigan. IU, Park Seo-joon, and the rest of the 'Dream' cast gifted fans with a memorable time, including a photo-taking event for those who visited the movie theater.
Notably, the audience erupted with applause and cheers when IU took to the stage. This show of support was clearly meant for IU, who has been under distress due to recent controversies.
Previously, on May 10, an individual 'A' had accused IU of plagiarizing six of her songs including 'Pink Shoes,' 'Good Day,' 'Bbibbi,' 'Marshmallow,' 'Boo,' and 'Celebrity' from both domestic and foreign artists, leading to a charge of copyright infringement. In response, IU's agency stated on the 12th, "The accuser has no rights to the songs they alleged were plagiarized and is a third party. Despite claiming public interest, the complaint targets the singer, not the songwriter, raising questions about the accuser's motives." They added, "Once we fully understand the details of the accusations, we will respond firmly with evidence prepared with music experts and composers based on fans' tips over several months."
Moreover, the composers of 'Boo,' Han Sang-won, 'Good Day' and 'Pink Shoes,' Lee Min-soo, and 'Bbibbi,' Lee Jong-hoon, also stepped forward to deny the plagiarism allegations.
Despite enduring these challenging allegations of plagiarism, IU continues to fulfill her scheduled commitments with a bright attitude, earning widespread support from the public.
Meanwhile, in the movie 'Dream,' IU plays the role of a passionless documentary PD named So-min. The movie tells the story of a former soccer player, Hong Dae (played by Park Seo-joon), and a passionless PD, So-min (played by IU), who, along with a team of homeless misfit soccer players, take on an impossible dream. The movie has recently surpassed 1 million viewers and is currently enjoying a successful run in theaters.