Music
The Dawn of the '5th Generation': The Boy Group Debut Rush is On!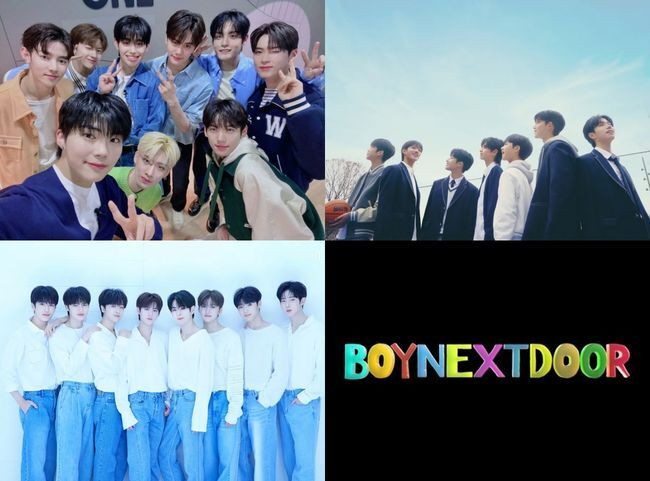 The K-pop industry is witnessing the rise of a new generation, with groups like TOMORROW X TOGETHER (TXT), TREASURE, ENHYPEN, ITZY, STAYC, aespa, IVE, NMIXX, LUMINOUS, and Newkidd having been classified as the "4th generation" since 2019. Now, the stage is set for the emergence of the highly anticipated '5th generation' idols.
This year, numerous boy groups from both major and up-and-coming agencies are making their debut, opening the door wide for the '5th generation.' Fans are already excited to see which group will triumph in this fierce debut battle and secure the honor of being the frontrunner among 5th generation boy groups.
In January, MHN Entertainment, home to soloist Chungha, launched the 8-member boy group '8TURN.' Their name signifies '8 (∞) - 8 boys with infinite potential' + 'TURN - rotation,' embodying their ambitious goal to lead a new generation in the K-pop market. 8TURN's debut album '8TURNRISE' delivered a bold message, declaring their limitless potential and the start of their journey to lead the K-pop scene.
Last month, KQ Entertainment, responsible for creating groups like Block B and ATEEZ, debuted the 10-member multinational boy group xikers. 'xikers' is a combination of the unknown variable 'x' and 'hikers,' meaning 'boys traveling through time and space to find their coordinates.' xikers gained attention with their debut album and 'HOUSE OF TRICKY' series, entering the Billboard 200 at 75 and the Billboard World Albums chart at 4 within just 12 days of debut, signaling a bright future as a global group.
XODIAC, a 9-member multinational boy group considered an early contender for the 5th generation crown, released their official debut single 'THROW A DICE' on the 25th after their pre-debut. The group's name is derived from 'Zodiac,' symbolizing members' pursuit of their own star signs with relentless effort and innovative power. XODIAC, having already won 'Most Promising Male Rookie Group' and 'Fashion Rookie Award' at the 2022 Weibo Awards, aims to establish themselves as 'fashion idols.'
On the 27th, 6-member boy group CommanderMan made their debut, entering the 5th generation boy group debut battle. CommanderMan's name embodies their ambition to command the stage and lead the next generation of K-pop, like the commanders they represent. During their debut showcase, they expressed their desire to be known as the 'center idols' of the 5th generation, capable of excelling in any genre.
In addition to these already debuted groups, several boy groups are in line to make their debut. This year, project groups formed through audition programs are gaining attention. The 9 trainees who made it to the final debut lineup through Mnet's 'BOYS PLANET' are gearing up to debut as 'ZEROBASEONE' this summer. Meanwhile, MBC's 'After School Excitement' Season 2, 'Boy Fantasy,' is also on its way to creating a new boy group.
WithUS, Around US's label, is preparing to launch their first rookie group in six years, 'The Wind.' The 7-member group, with an average age of 16.3, has attracted attention as the youngest boy group. Currently, they are raising anticipation for their official debut on the 15th of next month through various teasers and self-produced content, leading up to their big D-DAY.
Fantagio Entertainment is also preparing to unveil a new boy group, following ASTRO after nearly seven years. The 8-member group LUN8 is said to embody the meaning of "eight boys who carry the bright moonlight that illuminates the dark night." With plans to debut in the first half of this year, LUN8 has been gathering attention by releasing member profiles, unit vocals, performance videos, and a full-group performance video showcasing their synchronized choreography.
Global sensation BTS's parent company, HYBE, is set to strengthen the 5th-generation boy group lineup by introducing new groups under its labels. A 6-member boy group, Boyz Next Door, overseen and produced by Zico himself, is preparing for their debut under KOZ Entertainment.
Boyz Next Door aims to present a genuine and approachable image, as their name suggests, like "boys next door." They are determined to create relatable music that reflects everyday stories and resonates with their peers. With their official debut set for the 30th of this month, Boyz Next Door has already entered the debut countdown with massive promotional efforts, including large-scale sculptures. They have also secured a spot in the "2023 Weverse Con Festival Lineup." Additionally, HYBE's other label, Pledis Entertainment, is preparing a new boy group to follow in the footsteps of SEVENTEEN.
JYP Entertainment is reportedly preparing groups selected through SBS's survival audition program 'LOUD' and the Chinese boy group 'Project C.' SM Entertainment also has 'NCT Tokyo (tentative),' the final chapter in their 'infinite expansion,' slated for a debut later this year.
In summary, the K-pop scene is abuzz with the arrival of the 5th-generation idol groups, and the competition for the coveted 'Rookie Award' will be fierce. Fans are eagerly anticipating which group will rise to the forefront of this new generation of K-pop idols.