Celebrity
BLACKPINK Jennie Turns Heads in a Chic Chanel Look at the 'Met Gala': The Reason Behind Her Short Dress Choice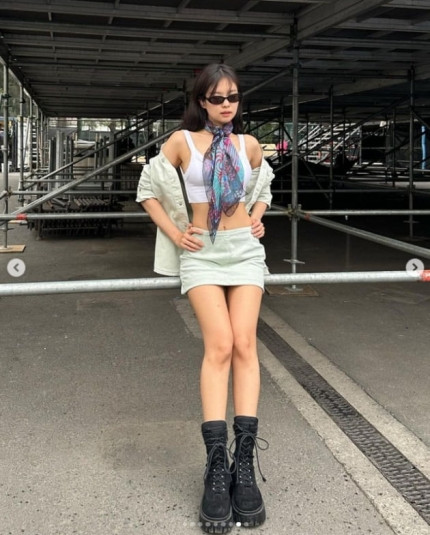 BLACKPINK's Jennie attended the 2023 Met Gala, following Rosé as the second member to participate in the prestigious event.
Jennie from the K-pop group BLACKPINK captured the attention of the media as she appeared at the 2023 Met Gala.
On May 1st (local time), Jennie walked the red carpet at the Metropolitan Museum of Art in New York for the 2023 Met Gala. She wore a white mini dress from Chanel, emphasizing her voluminous figure with a large flower and ribbon decoration below her chest and a curved neckline.
Jennie Kim just repurposed archival Chanel for the 2023 Met Gala #JENNIEatMetGala

Check out all the details here!: https://t.co/YOome39s4u pic.twitter.com/IHjbM1jJrw — Vogue Australia (@vogueaustralia) May 1, 2023
Jennie matched her outfit with black tights, high heels, and long gloves, and wore a choker around her neck. She braided her hair in a hairband style and adorned it with Chanel's signature white camellia flower, adding elegance to her look.
Vogue Magazine update with Jennie at 2023 Met Gala "One of the buzziest first-time Met Gala attendees is undeniably @.jennierubyjane"https://t.co/HAQMOGcnFB JENNIE MET GALA#JENNIEatMETGala#MetGala pic.twitter.com/9IpwTzoP67 — ᴱᴬᴿᵀᴴ ᴶᴱᴺᴺᴵᴱ (@Earth_Jennie) May 2, 2023
In an interview with Emma Chamberlain for Vogue, Jennie explained the reason behind her choice of a mini dress, saying, "When I see people wearing dazzling and massive dresses, I wonder, 'How on earth do they sit down?' I can sit comfortably." She added, "The Chanel team completed a dress that reinterprets the 1990s Chanel runway look, and I really love it."
230502 WWD IG : #JENNIE at The 2023 Met Gala (2)

jennierubyjane in a chanel mini dress at the Met Gala
https://t.co/1xB09CGQ20

JENNIE MET GALA #JENNIEatMETGala#MetGala #MetGala2023 제니 멧갈라 pic.twitter.com/rYgF853gCp — DC 제니 갤러리 (@JennieDCGallery) May 1, 2023
The Met Gala, held annually on the first Monday of May, is the largest fashion charity event. Each year, a specific costume theme is selected as the dress code, and celebrities are invited to a fundraising event for the museum's endowment. This year's theme is 'Karl Lagerfeld: A Line of Beauty,' honoring the late, great fashion designer who passed away in 2019.
In 2021, BLACKPINK's Rosé became the first Korean celebrity to be invited to the event, garnering much attention. Since then, model and actress Jung Hoyeon, singer CL, and others have also attended the event.