Fashion
Stunning Transformations: Song Hye-kyo, Park Eun-bin, and IU Mesmerize with 'Short Hair' at the Baeksang Arts Awards
The dazzling beauty of actresses at the awards ceremony is making headlines.
On April 28, the 59th Baeksang Arts Awards, hosted by Shin Dong-yeob, Suzy, and Park Bo-gum, took place at Paradise City Hotel in Incheon.
On this day, actresses who starred in popular dramas such as Song Hye-kyo from 'The Glory,' Lim Ji-yeon, Kim Hee-ara, Kim Ji-won from 'My Liberation Diary,' and Park Eun-bin and Ha Yoon-kyung from 'Strange Lawyer Woo Young-woo' graced the event in their glamorous dresses.
In addition to these actresses, Jeon Do-yeon from 'Kill Boksoon' and 'One Shot Scandal,' Go Yoon-jung from 'Hunt,' IU from 'Broker,' No Yoon-seo from 'One Shot Scandal,' and Tang Wei from 'Decision to Break Up' showcased their beauty with various stylings.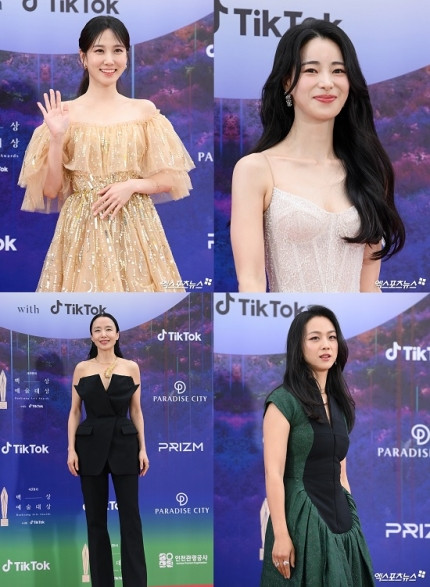 Throughout the Baeksang Arts Awards, the diverse reactions of the many actors and actresses were entertaining, but the beauty of the female actresses was the talk of the town.
Various online communities enthusiastically captured the actresses' faces as they appeared on screen during the awards ceremony. Because these actresses usually appeared with light makeup and modest attire in their dramas, their fully dressed-up appearances were even more refreshing.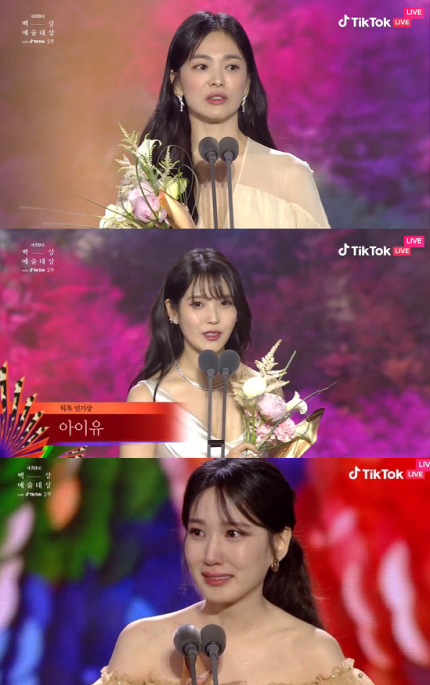 The reactions to the long hair transformations of Song Hye-kyo, IU, and Park Eun-bin, who were known for their 'signature' short hair, were particularly heated. Song Hye-kyo's Moon Dong and Park Eun-bin's Woo Young-woo gained popularity with their short hair in their respective dramas. IU's recent activity with medium-length hair made her long hair transformation more than enough to captivate fans. Netizens expressed their enthusiasm with comments like, "Dong Eun looks so pretty when she dresses up," "Singer IU and actress IU are both glamorous," "These sisters' style is insane," and "Woo Young-woo was hiding her beauty."
The online communities are now filled with various photos of these talented and beautiful actresses showcasing their 'visual prowess' after the awards ceremony.
The Baeksang Arts Awards, a comprehensive arts awards ceremony covering TV, film, and theater, selected nominees and works from contents provided on terrestrial, general programming, cable, OTT, and web channels, as well as works released domestically between April 1, 2022, and March 31, 2023.