Awards
Song Hye-kyo and Lim Ji-yeon's 'Yeon-jin Ah' Moment: 'The Glory' Catchphrase Shines at the Baeksang Arts Awards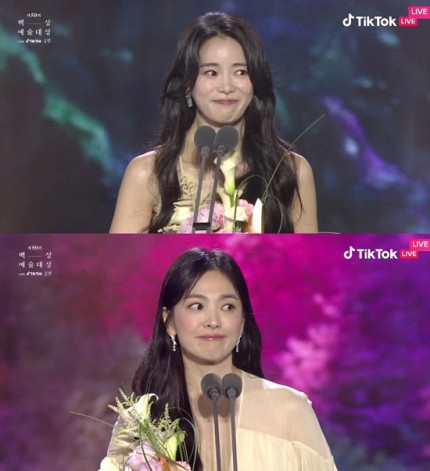 The famous catchphrase from "The Glory" made an impact at the Baeksang Arts Awards ceremony.
On April 28, the 59th Baeksang Arts Awards took place at Paradise City Hotel in Jung-gu, Incheon, hosted by Shin Dong-yup, Suzy, and Park Bo-gum.
The Netflix original series 'The Glory' has been a hot topic, leading a syndrome-level popularity, showcasing its influence with awards for Best Drama, Best Screenplay, Best Actress, Best Supporting Actor and Actress, and Best Newcomer Actor and Actress.
Actresses Song Hye-kyo and Lim Ji-yeon, who were often talked about for their close friendship, showed their contrasting friendship to their on-screen relationship by sending hearts to each other during the ceremony.
Furthermore, Song Hye-kyo and Lim Ji-yeon mentioned a collection of famous lines from 'The Glory,' which had caused a sensation in South Korea, as their acceptance speeches, adding excitement to the awards ceremony.
Lim Ji-yeon, who won the Best Supporting Actress award for TV, said, "I want to thank director Ahn Gil-ho and writer Kim Eun-sook for giving me the opportunity. It was an honor just to participate."
She also mentioned her public relationship with Lee Do-hyun, saying, "Thank you to my loving perpetrator family, Do-hyun, and Song Hye-kyo, who warmly accepted me."
With a trembling voice, Lim Ji-yeon said, "Playing Park Yeon-jin was a scary challenge that could fail. I'm still afraid of acting, and I've been frustrated and blamed myself many times. I wondered if what I wanted to do and what I was good at were different. So, today, I want to tell myself in front of my respected seniors and colleagues, 'You worked so hard as Yeon-jin. You're doing well enough. You're amazing! Yeon-jin Ah!'" and received applause.
Song Hye-kyo also won the Best Actress award for TV on this day. She exclaimed in the same tone as her character's dialogue, "I won an award, Yeon-jin Ah, I'm so excited right now!"
She expressed her gratitude, saying, "I wanted to try it for the last time. I really wanted to receive this award. Without each and every staff member, there would be no Mun Dong-eun."
Song Hye-kyo continued, "I sincerely thank the wonderful actors I worked with, and director Ahn Gil-ho, who filled in Mun Dong-eun's shortcomings. I also thank my fans" and added, "I received so much love for the two works I did with writer Kim Eun-sook. Writer Kim Eun-sook is an honor for me."
She concluded, "Thank you for entrusting me with Mun Dong-eun. It was difficult and painful while acting, but now I want to act more. I'm very grateful."
True to 'The Glory,' which created the well-known catchphrase, the actors received congratulations amidst the cheers, adorned with the famous lines, marking the year of 'The Glory.'
The Baeksang Arts Awards, a comprehensive arts ceremony encompassing TV, film, and theater, selected candidates and works for content provided on terrestrial, comprehensive, cable, OTT, and web platforms, or works released domestically from April 1, 2022, to March 31, 2023.