Awards
Park Eun-bin in Tears as She Wins the Grand Prize: 'I Never Expected This Moment, There Were Times of Self-Doubt'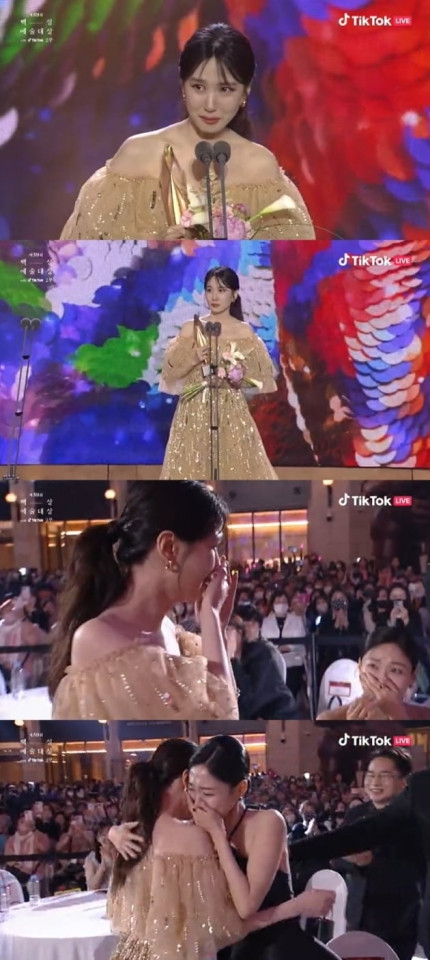 Actress Park Eun-bin won the Grand Prize in the TV category at the 59th Baeksang Arts Awards.
On the evening of April 28, the awards ceremony for the 59th Baeksang Arts Awards was held at KINTEX in Ilsan, Gyeonggi Province. The event was hosted by broadcaster Shin Dong-yeob and actors Park Bo-gum and Suzy, and was broadcast live on JTBC, JTBC2, JTBC4, and TikTok.
Park Eun-bin shed tears as her name was announced as the winner. She then took to the stage and said, "I am so grateful. I feel like I'm accepting this on behalf of the entire 'The Odd Lawyer Woo Young-woo' team. Over the past year, countless works have been created, and there are many outstanding people who always give their best and are dedicated to their craft. I sincerely thank you for giving me this award. I think I received it thanks to the many people who loved 'Woo Young-woo.'"
She continued, "I want to thank everyone who watched 'Woo Young-woo.' The show received much more love and attention than expected. Honestly, if it weren't for your love, I don't think I would be standing here today. I'm sorry. I didn't expect this moment to come," she said, crying.
Park Eun-bin shared, "I dreamed of becoming an adult who could win the Grand Prize if I didn't give up on my childhood dream of becoming an actor, and I'm grateful for the opportunity to achieve that dream. I hope my efforts to understand Young-woo were a valuable experience that helped people learn a little more about the autism spectrum. I didn't have grand dreams of changing the world, but I acted with the hope of at least fostering a kinder heart and recognizing each person's unique characteristics as diversity rather than difference. Thank you for taking an interest in those first steps."
She went on to say, "It took quite a while to face 'Woo Young-woo.' I was afraid because I thought that depending on how I portrayed Woo Young-woo as an actor, someone might be deeply hurt. I needed to constantly verify whether I unknowingly held prejudices about autistic individuals and lawyers. It was a project that I was fortunate to be able to finish by overcoming my own frustration."
Park Eun-bin concluded, "The line 'My life is strange and peculiar, but it is valuable and beautiful' is the most memorable. I was happy to convey this story through Woo Young-woo. I want to cherish Young-woo's footsteps, which were boldly taken despite the difficulties, acknowledging, accepting, and embracing his own life. I thank and love my mom, dad, and brother who have supported me without reservation since 1996."