TV
BLACKPINK's Secret to Stardom: 15-hour Workdays and Unwavering Dedication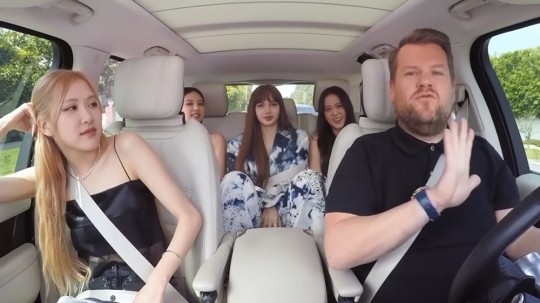 Group BLACKPINK has revealed their typical daily routine.
Recently, BLACKPINK appeared on the "Carpool Karaoke" segment of "The Late Late Show with James Corden," hosted by American television personality James Corden.
Corden asked the group about their trainee days, to which Jennie replied, "Lisa and I trained for about 5 to 6 years." She also revealed, "During our trainee period, we learned dance, singing, and languages, especially various dance styles like popping and crumping."
When Corden asked them to demonstrate their crumping skills, Jisoo explained, "You have to move your hands widely while dancing and make an angry face." The members then showcased their unique crumping styles.
Regarding their daily routines and when they start working, Lisa said, "Our schedule usually starts between 11 AM and 12 PM." Rosé added, "We get ready between 9 AM and 10 AM."
Corden jokingly commented, "That sounds better than when I was in school," but upon hearing Rosé say they work from 11 AM until 2 AM, he expressed his surprise at BLACKPINK's schedule, which induced laughter.
Rosé continued, "It's the same on weekends. We only have Sundays off." Corden couldn't help but admire their hard work, saying, "You really work diligently."
In response to Corden's question about when they came to Korea, Rosé and Lisa answered they were 16 and 14 years old, respectively. Recalling her departure from Australia, Rosé said, "My friends asked me where I was going. I had no way of explaining, so I just said I was going to an acting school. I told them they would find out eventually."
When Corden expressed concern about how much they must have missed home at such a young age, Jennie replied, "The competition among trainees was so fierce that we forgot about other aspects of life. We had to take different tests and film all the time. We did that every day." Her answer evoked sympathy.
Meanwhile, BLACKPINK made history as the first K-pop idol group to headline at the American "Coachella Valley Music and Arts Festival."