Music
BTS' Jimin Reigns Supreme on 'K-POP RADAR' for Two Consecutive Weeks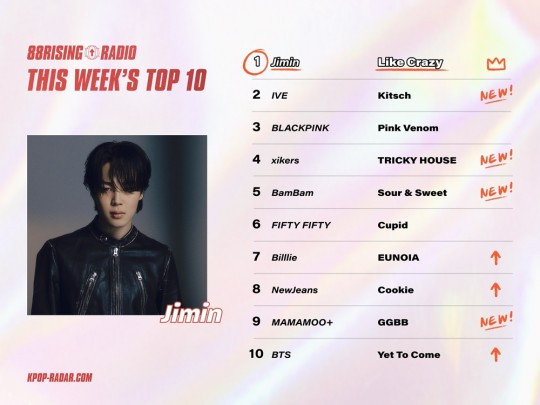 Global top group BTS member Jimin has claimed the top spot on the weekly fandom chart of "K-POP RADAR," a K-pop exclusive chart show broadcast across the United States.
As the K-pop exclusive chart program "K-POP RADAR" has become the first-ever US radio program regularly featuring K-pop, the weekly fandom chart was announced on the 7th.
On this chart, Jimin's "Like Crazy" reached the top spot, proving his global influence by maintaining the throne for two consecutive weeks after claiming the top position with "Set Me Free Pt.2" last week.
Jimin's "Like Crazy" music video boasted an astounding record of 26.78 million views during the "K-POP RADAR" 5th week of March (March 24, 2023, to March 30, 2023).
Additionally, according to "K-POP RADAR," Jimin's Spotify followers also increased by approximately 202,000 during that week. Considering the average increase of about 2,300 followers for K-pop artists during the same period, these figures are overwhelmingly impressive.
In response, "K-POP RADAR" stated, "After ranking first with the pre-released track last week, the title track also claimed the top spot, and we look forward to Jimin's solo endeavors."
In this week's "K-POP RADAR" weekly fandom chart's TOP 10, IVE's pre-released track "Kitsch" ranked 2nd. Following that, rookie group Xikers' debut song "Tricky House" ranked 4th, and BamBam's new track "Sour & Sweet" ranked 5th, attracting attention.