Celebrity
BTS SUGA Goes Topless For Mysterious Photo Shoot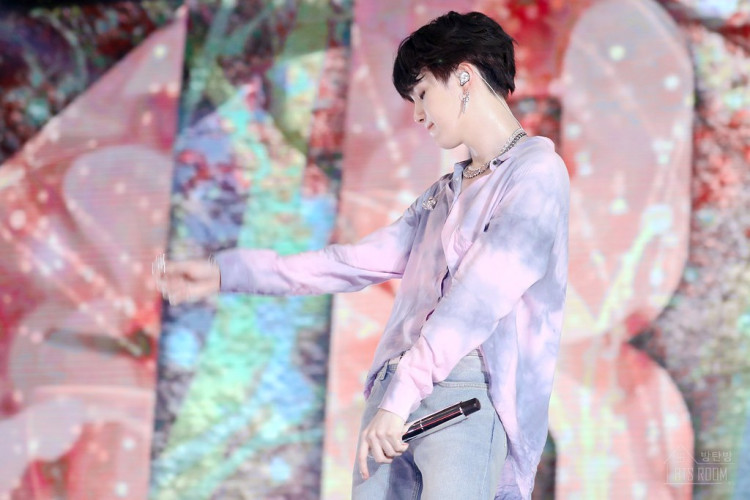 BTS member Min Yoongi aka SUGA released a couple of his photos on Instagram today that have taken the internet by storm and caused a meltdown for the ARMY.
Yoongi is usually not too active on his personal Instagram handle, but when he is, it causes mayhem. The super K-pop idol posted four photos, two of them with the same aesthetics.
The first set of two photos shows a shirtless SUGA with flowers covering his neck. The second set of photos also captured SUGA without a shirt, but it features an abstract threaded headgear in a single shade that looked more like an elegant pink web.
The Bangtan Boy shared the photos with a shy monkey emoji. At the moment, it is not known whether the shirtless photos are from SUGA's photo folio series.
Many fans worldwide had similar opinions that they never thought they would see the day when SUGA would post such type of photos of himself, much to their joy.
On the work front, Yoongi collaborated with Korean sensation Psy on the track "That That", which was released in May 2022. The song also won awards at the MAMA awards last year.
SUGA also has his own drinking show on YouTube. Incidentally, Rumors have been rife that for his mandatory military services, Yoongi could complete it as a social service agent rather than being an active duty soldier.
Ever since BTS made the announcement that they put a halt on band activities to complete their mandatory military duties, each of the seven members embarked on their solo pursuits. Until now, J-Hope, Jin, and RM have dropped their solo releases.
Meanwhile, fans feel that they have finally managed to spot Yoongi's elusive tattoo in his new set of topless photos. All the BTS members had matching seven friendship tattoos inked, with each member getting it on a different part of their body. All seven tattoos together spell BTS.
SUGA's tattoo has been a mystery, though he did confirm back in August 2022 that he did indeed get a tattoo, also adding that he would not tell where it is, asking everyone to "Try to find it".
Now, some fans think that they have spotted something akin to a tattoo on the back of Yoongi's neck, while others feel that it is just a few strands of hair. However, whether they have actually solved the location of SUGA's tattoo still remains as mysterious as the reason behind the topless photo shoot.