Celebrity
BTS: Here's What Each Member Wants To Tell Their Younger Selves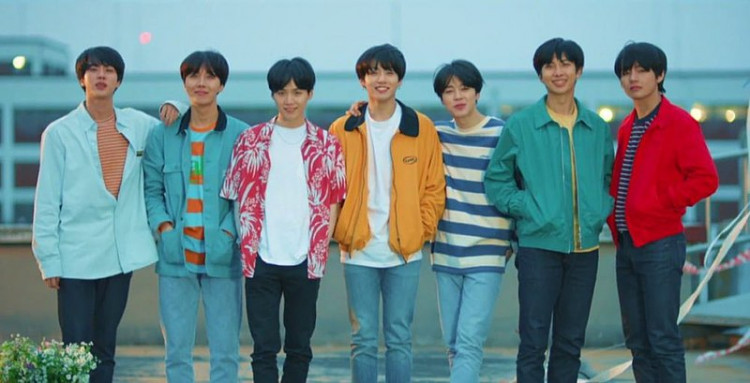 The Bangtan Boys recently sat down with Spotify Korea for a special video, ahead of the release of their new anthology album "Proof". During the filmed event, the seven members reflected on their eras through the years and sent messages to their younger selves.
V, Jungkook, Jimin, Jin, SUGA, RM, and J-Hope talked about their debut and the HYYH era. Jimin mentioned that they heard "Run", their blockbuster song, a lot during that era. Jin then disclosed that the band looked bewildered when they won the TV music program for the first time.
According to the youngest member of the group Jungkook, if he were to send a message to his younger self, he would send none because he feared that such a message would alter the young Jungkook's future.
The golden maknae of BTS added that everything that eventually happened to the group was because they did not know anything about their successful future back then and if they would have known it would not have been the same.
Hobi revealed if would tell his younger self to keep doing what he was doing and do his best at it, however, he would not explain things in detail to his younger self.
RM wanted to tell his younger self from the "Map of the Soul 7" and "BE" eras that it was okay and this too would pass, referring to the pandemic. He added that now he did not really remember how hard it was for him during the pandemic.
Namjoon also believed that however hard it was for them, the ARMY had been waiting for them for a long time. It was at this point that Jimin added that RM had broken down when the pandemic and lockdown had shattered their plans. Jimin revealed that RM had cried during that time because the group was upset as they had prepared a lot.
V shared that he would tell his younger self that it would be very tough, to which Junhook quipped that wouldn't that make the younger TaeTae run away thinking that could it be even harder than what they were already going through! Taehyung then said that ignorance is bliss, while SUGA added that all the BTS members could do what they did because they did not know what was in store.
In the meantime, "Proof" is slated for release on June 10. For now, see the Spotify interview here.