Awards
BTS Win Four Awards At Golden Disc Awards 2022, Including 'Album of the Year Daesang'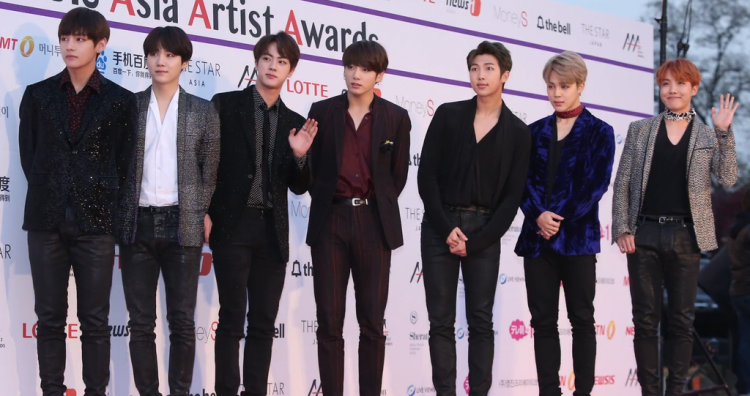 The annual 36th Golden Disc Awards 2022 took place on Saturday KST at the Gocheok Sky Dome in Seoul, South Korea. It was hosted by South-Korean singers Sung Si Kyung, Lee Seung Gi, and model-actress Lee Da Hee.
Mega K-pop idol BTS, girl band aespa, and independent vocalist IU were among the ceremony's biggest winners, winning three and more awards.
The Bangtan Boys won the grand prize of the event the Album of the Year Daesang for the album "BE", the main prize Album Bosang, Digital Bosang, and Seezn Golden Disc Popularity Award.
IU won the Digital Song of the Year Daesang and Digital Song Bosang for her 2021 hit track "Celebrity". aespa won the All Artist of the Year award and the Rookie of the Year awards. STAYC also won the Rookie of the Year award.
Here is the full list of the Golden Disc Awards 2022:
Album of the Year (Disc Daesang): "Be" by BTS
Song of the Year (Digital Daesang): "Celebrity" by IU
Artist of the Year: aespa
Seezn Most Popular Artist Award: BTS
Best Group: Brave Girls
Best Solo Artist: Lim Young Woong
Rookie Artist of the Year: aespa, STAYC
Main Award (Digital Song Bonsang): Next Level" by aespa, "Nakka" by AKMU with IU, "Butter" by BTS, "Happen" by Heize, "Celebrity" by IU, "Traffic Light" by Lee Mu Jin, "Dun Dun Dance" by Oh My Girl's, "ASAP" by STAYC.
Main Award (Album Bonsang):"Be" by BTS, "Dimension: Dilemma" by ENHYPEN, "Lilac" by IU, "Sticker" by NCT 127, "Hot Sauce" by NCT Dream, "Attacca" by Seventeen, "Noeasy" by Stray Kids, "The Chaos Chapter: Freeze" by TXT.
Best Performance: The Boyz, Jeon So Mi,
Cosmopolitan Artist Award: Seventeen, aespa,
Celebrities who presented the awards this year included Ahn Bo-Hyun, Lee Do-Hyun, Ahn Hyo-Seop, Jeon Jong-Seo, Woo Do-Hwan, Oh Jung-Se, Park Hee-Soon, Ju Ji-Hoon, and Jung Woo-Sung.
The show saw performances by Heize, TXT, Oh My Girl, THE BOYZ, ENHYPEN, aespa, IU, SEVENTEEN, Big Mama, Stray Kids, and STAYC.
The Bangtan Boys also presented never-before-seen footage from their "Permission To Dance On Stage In LA" concert, which was held in California's Inglewood at the SoFi Stadium over four days in November-December 2021.
The Golden Disc Awards is a yearly music awards ceremony held in South Korea, which honors the local music industry's achievements. The awards ceremony was founded to contribute to the music industry's growth, discover new artists, and promote popular culture creativity.