Celebrity
BTS Jimin's Charms Catches The Attention Of Famous 'Friends' Actress Jennifer Aniston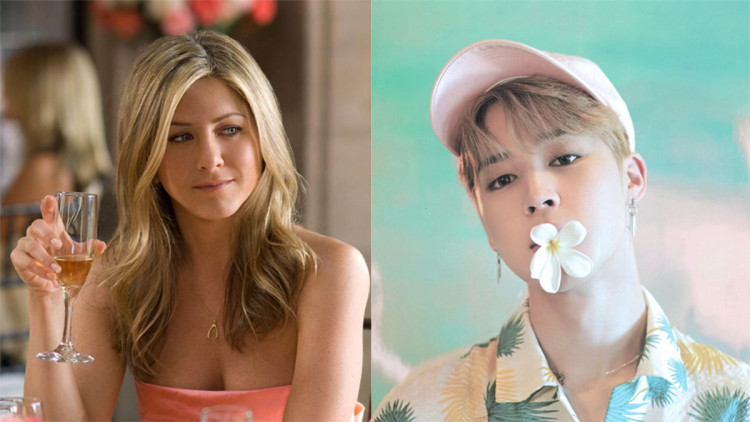 Jimin had no idea that their exchange of fun nicknames with James Corden in their previous appearance in the famous American late-night show would change the trajectory of all BTS appearances on The Late Late Show. It can be recalled that Jimin made the quick-witted rejoinder to call James as "Papa Mochi" to his "Baby Mochi."
Sharon Stone's Admiration To Jimin
Much more surprising about the latest appearance of Jimin on the show is that his beauty ended up catching Sharon Stone's attention. In early December 2020, the official profile for The Late Late Show, hosted by James Corden, commented on a photo of Jimin during a BTS performance of "Dynamite."
The comment unsurprisingly went viral and received thousands of compliments from fans worldwide. And one particular comment, in particular, attracted attention. The veteran Hollywood actress Sharon Stone also expressed her affection for Jimin by calling him "adorable."
The unexpected statement of Sharon Stone resonated on social media and Twitter. The singer's fans made him go viral.
Per Music Mundial, the Hollywood actress- Sharon Stone rose to world fame in 1992 after playing Catherine Tramell in the movie Instinct Savage. Her acting stint made her compete for a Golden Globe in the "Best Actress" category. The 62-year old star is also known for the films Casino, Invasion of Privacy, and The Avenger of the Future.
Jimin Getting Jennifer Aniston's Attention
Even to this day, Jimin and Jame's famous interaction continues to generate tremendous attention. This is beyond the acclaimed singer-songwriter Alicia Keys asking James if he prefers Grammy Award-winning singer Harry Styles or his own "Baby Mochi" Jimin.
On April 30, the latest additions to the growing list of celebrities acknowledging Jimin from his American TV appearances happened.
A post was recently made by The Late Late Show, showing an excerpt of the Main Dancer Jimin teaching James Corden BTS choreography on Instagram. Moreover, the clip managed to catch the attention of Jennifer Aniston, the Singer and former Fifth Harmony member Lauren Jauregui, and popular actor-comedian Terry Crews.