Celebrity
Are BTS RM, Jin, Suga, J-Hope, Jimin, V, Jungkook Preparing For Grand Return?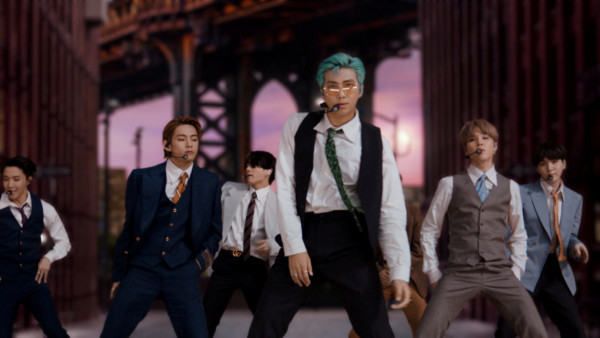 J-Hope's joke about his new hair color just heightens the assumptions that BTS will soon make a comeback. The group usually changes their mane color to prepare for a grand return, and ARMY believes it's true.
J-Hope announced he dyed his hair red, but it's only an April Fool's Day prank. The red locks he was saying turned out to be a red herring, but it doesn't die down the talks about BTS's comeback.
J-Hope indeed changed the color of hair but to silver and not red. Eagle-eyed fans saw this change when some strands of his crowning glory peeked out from his hat during a live café-themed broadcast with Suga and V, according to Koreaboo.
It has been a while since he changed his hair color, and this seems to confirm the news about the group's return. Does this mean they are set for a comeback?
Fortunately, HYBE finally revealed the truth about the color of J-Hope's hair through the HYBE x Ithaca Holdings video. The 27-year-old rapper launched his new gray and fans couldn't help but be excited about it.
Does this mean BTS is now preparing for a grand return? Rumors about their comeback began when they dropped their new Japanese song, "Film Out," on April 1.
The Korean news site Sports Donga started talking about the group's new music, releasing sometime this spring, while others said it's in May. Elite Daily noted RM, Jin, Suga, J-Hope, Jimin, V, and Jungkook have been teasing making new music for a long while now, and it looks like it's about to happen.
RM said during the 35th Golden Disc Awards that they would return with a good song this year. The announcement made fans excited, even creating a theory that their BE (Deluxe Edition) album was part of a trilogy that would followed by FEAR and LESS, which would spell out as BE FEARLESS.
Finally, Big Hit Music broke its silence and revealed the truth about the BTS comeback rumor. It simply said the artists' plans would be announced "once everything had been finalized," per Soompi.
Though it neither denied nor confirmed the news, fans expect there will be new music coming from their favorite idols. In an interview, the boys said that they were working on new music both as a group and a solo artist. V even said on the BE-hind Story interview video that he's working hard on his new solo mixtape.
Do you believe BTS will make a comeback this year? Share your comments below. (Business Times)