Celebrity
MAMAMOO's Hwasa Receives Praises For Her Superb Hanbok Look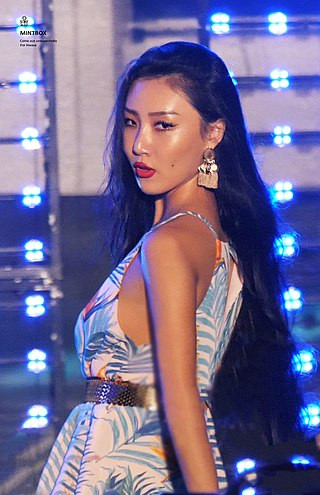 It seems that hanboks are already entwined with Hwasa's name these past months. After being slammed by Chinese netizens last December for wearing hanbok with alleged insulting Chinese letters, the Maria singer is redeeming herself with praises this Lunar New Year. This is for wearing a stunning hanbok look on February 11 and is posted on her Instagram account!
Hwasa Slammed For Wearing A Hanbok
Last December, Hwang Yi Seul, the Hanbok designer who recently designed MAMAMOO's hanboks for their year-end stage on KBS Song Festival, revealed a DM she received from a Chinese netizen. The said netizen demanded an explanation for the insulting Chinese letters on their hanboks.
The MAMAMOO members previously performed AYA wearing unique-looking hanboks that drew much attention from viewers during their performance.
However, as divulged by the Chinese netizen who sent the hanbok designer a DM, the outfits stirred much dispute in the Chinese online community due to the seen insulting Chinese letters on them.
The netizen shared, "MAMAMOO's outfits at KBS Song Festival has caused a dispute in China. The Chinese characters on their outfits were full of insults."
The netizen clarified the matter and announced a threat that MAMAMOO wouldn't stay active in China anymore.
The unknown personality said that the Chinese fans don't understand the outfits. "Can you talk to your company? If not, it'll be hard for you to stay active in China. The word is spreading in China," the netizen added.
The Hanbok Designer Responded
Furthermore, in response to the accusations, the astonished Hang Yi Seul stressed that those were hanboks with Korean script. "They're not Chinese letters. They're Korean script. Was Sejong the Great Chinese? No, he was Korean. Why should a Korean explain why we wore Korean hanboks?"
Not long ago, there was a dispute among Korean and Chinese netizens regarding Korean hanboks' true origin. The Chinese netizens claimed that they were originally worn during the Chinese Ming Dynasty.
Meanwhile, despite the fight regarding hanboks' origin, Hwa Sa still received fantastic responses on her Lunar New Year outfit. She showed off an utterly regal hanbok look in a gorgeous, black and gold piece on her Instagram account with a simple caption marked by a black heart.
Currently, the MAMAMOO member greets viewers as a member of MBC's I Live Alone.
Stay tuned for more updates!