Celebrity
Jung Il Woo Reunited With Kim Bum In His YouTube Channel Vlog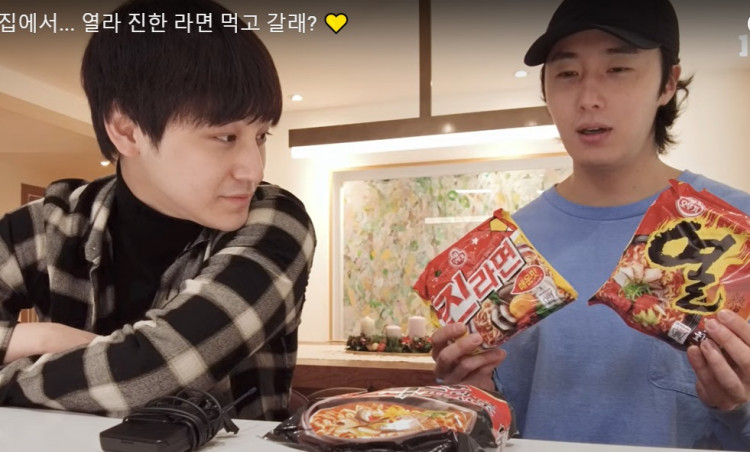 On January 8, Jung Il Woo shared that a friend who would comfort his loneliness just arrived in his place on his YouTube channel. With Kim Bum appearing to be the friend he refers to, fans were fascinated with the surprise reunion of the former Unstoppable High Kick co-stars for a meal together!
Kim Bum's Fascination To Vlogging
Kim Bum and Jung Il Woo's friendship was highlighted in the vlog post. Kim Bum showed up in a casual outfit with a black mask, and as he greeted the fans, he smiled shyly at the camera.
With the idea of vlogging, Kim Bum was fascinated, and Jung Il Woo told him to be comfortable because his editor will do all the work to make sure only the good parts are in the video.
The two then checked the microphones and cameras together, and Kim Bum couldn't help but laugh at this new side of Jung Il Woo.
Jung Il Hoon Showcasing His Famous Cooking Skills
Later on, Jung Il Woo announced he'll make delicious lunch for Kim Bum. Kim Bum then commented he is sure everyone knows how good Il Woo at cooking. "He's famous for it among our mutual friends," he added.
For Jung Il Woo's visitor, he announced that he had made three menu choices.
After realizing that the "three menu choices" were three different ramen types, Kim Bum cracked up. Then he added that he likes the ramen Il Woo makes for him.
The two enjoyed the prepared ramen of Jung Il Woo after a long and thorough process. Kim Bum praised the food, and Jung Il Woo was thrilled to share a meal with his longtime friend.
Kim Bum then greeted fans a Happy New Year at the end of the video, and Jung Il Woo promoted Kim Bum's upcoming drama Legal School (literal title). In return, Kim Bum also shared his hope for Jung Il Woo's new drama Bossam - Stealing Fate (literal title) that many people will support it.