Music
A Rare Battle In Music Bank: BTS Versus BTS For Top Spot With 'Dynamite' And 'Life Goes On'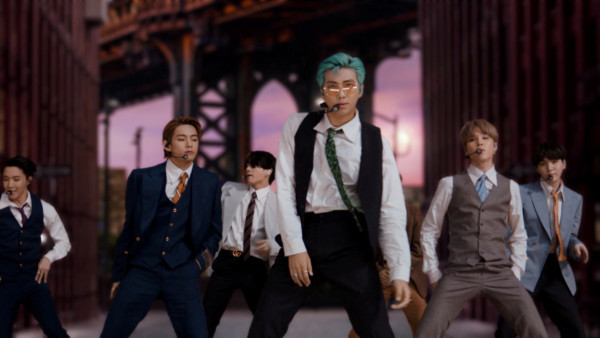 The latest Music Bank episode aired on December 4 made the ARMYs jump for joy as two BTS tracks competed for the top position. With Dynamite and Life Goes On vying for the prize, BTS took home the gold for its 26th win with Dynamite.
The new BE track, Life Goes On, scoring 3,691 points, was defeated by Dynamite with 10,014 points.
The Idol Groups' Mesmerizing Performances On Music Bank
With the ARMYs just chilling on the corner, fans of 2Z, BAE173, ENHYPEN, STAYC, GOT7, KAI, NTX, woo!ah!, WOODZ (Cho Seung Youn), NORAZO, DKB, DRIPPIN, MOMOLAND, BoA, Bling Bling, E'LAST, LOONA, and COOING were at the edge of their seats waiting for the week's results.
Each presenter gave their best shot on the famous stage, however, the Bangtan Boys are yet ready to give up their throne on the top.
BTS Are Now In Competition With Itself
With the rare event happening on Music Bank wherein two songs from the same group went head to head for the highest prize, fans and nonfans tuned in and witnessed the unusual mesmerizing event. For the week, the full English track of BTS, Dynamite, and their latest track, Life Goes On, was nominated for the top spot.
Back in August this year, Dynamite was released, while Life Goes On was released last month. Ultimately, to take the number 1 place this week, Dynamite beat out Life Goes On.
The amazement overflowed among the ARMYs by this week's nomination as they saw this rare showdown.
Fans Shared Their Funny Thoughts
Meanwhile, the netizens made waves on social media and made some hilarious comments, saying, "I thought BTS would lose," "Too bad for fans, Bangtan lost to BTS this time," "BTS beat Bangtan (BTS's Korean name). Good for them," "Wow, BTS defeated BTS and ranked number 1. lol" and "I'm so sad Bangtan lost to BTS."