Music
Rookie Boy Group DRIPPIN Are Boy Scouts In New MV 'Shine'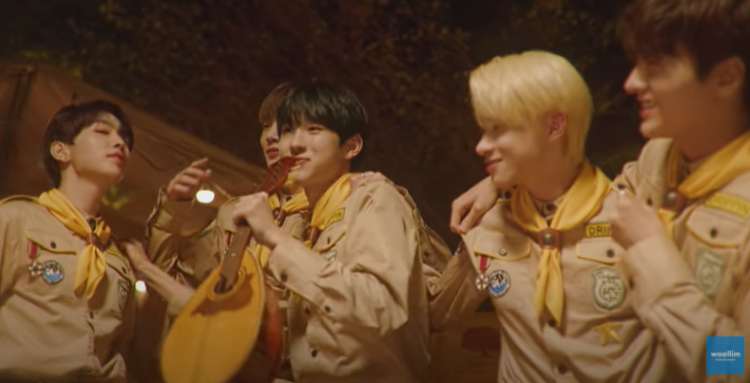 The 2020-born South Korean all-boy group, DRIPPIN, surprisingly unveiled a music video showcase on Youtube for the b-side track called Shine, Soompi reported. The music video captures the fun-filled teamwork and camaraderie of the rookie group as the members go for an adventure, acting as boy scouts.
DRIPPIN
Shine
s their way throughout the music video
According to Hellokpop, DRIPPIN released the music video for Shine on November 16 (Monday), shortly after teasing its massive fans via a special poster. The image in the poster goes all out as the new all-boy group of K-pop captivates its fans and viewers' attention.
Having that said, all dashing lads of DRIPPIN can be seen wearing respective boy scout uniforms, which speaks so much of the music video's concept. Undoubtedly, when the music video came out, fans could see DRIPPIN all cheeky and playful in their scout outfits.
Furthermore, DRIPPIN made sure to elaborate the music video's concept and message during a live broadcast on Naver's V LIVE that took place on November 15, a day before the music video release.
Bits of DRIPPIN's music video for
Shine
The music video of DRIPPIN for Shine was uploaded on woolliment's official Youtube channel, with inspiration from the Moonrise Kingdom film of Wes Anderson. The roles of each member of the K-pop septet portrays the characters of astronomers, geographers, botanist, and the combined concept of Club.
Just days after its release on Youtube, the music video instantly bagged a massive view figure, following the footsteps of the group's last music video entry for Nostalgia. It is unquestionable, though, since Shine's concept and theme are in connection to the music video of Nostalgia.
Moreover, Shine is a part of DRIPPIN's debut album entitled Boyager, released on October 28, 2020. The album hails a title track called Nostalgia, which sings of an enticing dance-pop beat alongside the guitar's instrumental background.
Watch the music video of Shine below!