Music
SuperM Boys Heat Up The Stage For Their Pre-Release Track 'One (Monster & Infinity)' + Performance At The Ellen DeGeneres Show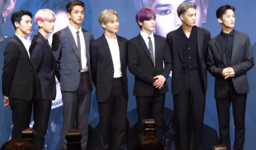 SuperM boys, tagged as the Avengers of K-Pop, are fueling their talent machinery as they are set to drop the pre-release track called One (Monster & Infinity). As per Hellokpop, the song hails as the lead single of the band's first comeback album entitled Super One.
In a statement released by SuperM's home management and recording label, SM Entertainment, One (Monster & Infinity) is a mixture track that comes along a remix beat, expressing the determination of someone to get over the trials and chaos confidently.
SuperM was invited to perform at The Ellen DeGeneres Show.
Furthermore, SuperM, consisting of Lucas, Ten, Mark, Taeyong, Kai, Baekhyun, and Taemin, will grace the renowned stage of The Ellen DeGeneres Show on September 23 at precisely 1 P.M. KST. Undoubtedly, the band will turn the gloomy day of their fans into an energetic and full of uplifting spirit with their intense performances. The K-pop septet will indeed bring the K-pop culture to the show, following the footsteps of BTS.
Super One
In the previous stage dominations by SuperM, the all-boy group has delivered various dynamics with their versatility on-off the camera and the stage. The band's excellent musical noted and overall x-factor adds to the sophistication of each of the members.
On top of that, titles like 100 and Tiger Inside showcases the immense singing and dancing skills of the band. The matter led the band to highlight the anticipation of the fans with their first-ever comeback album.
All seven members of SuperM has cooperated in writing some of the tracks in the album. Member Mark solely wrote 100, who also joined fellow band member Taemin in composing Together At Home.
For the time being, SuperM will be making their Super One album on September 25 at precisely 6 P.M. KST. In the meantime, check out SuperM's performance on The Ellen DeGeneres Show tonight!