Music
The Power of Next-Gen K-Pop: Shining Moments at the '2023 BBMAs'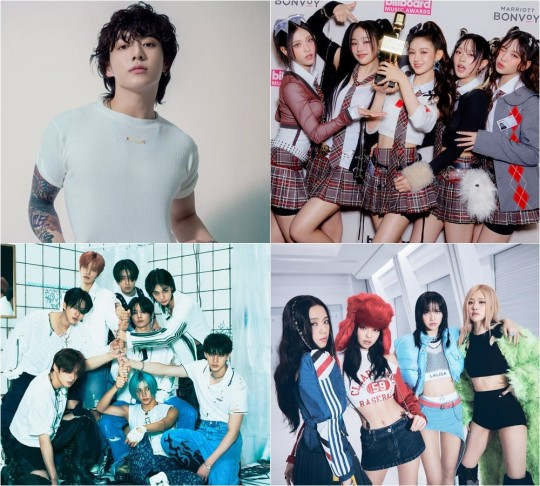 The '2023 Billboard Music Awards' showcased the rising stars of K-Pop.
Held on November 20 (Korean Time) in a virtual format, the '2023 Billboard Music Awards' departed from its traditional live broadcast, opting instead for a pre-recorded presentation. The winners shared their thoughts through short video clips.
The 'Billboard Music Awards', along with the 'American Music Awards' and the 'Grammy Awards', are considered one of the top three music awards in the United States. Since BTS's first win in 2017, the group has expanded K-Pop's influence at the ceremony, securing a total of 12 trophies over six consecutive years. This year's ceremony, which presented awards in 69 categories, introduced new K-Pop categories including 'Top Global K-Pop Artist', 'Top K-Pop Touring Artist', 'Top K-Pop Album', and 'Top Global K-Pop Song'.
Among the winners announced on the Billboard website, the third-generation idol group BTS and BLACKPINK, as well as fourth-generation idol groups, made their mark in the newly established K-Pop categories, signaling a bright future for K-Pop.
NewJeans, a fourth-generation girl group, took home the 'Top Global K-Pop Artist' award, beating out veteran artists like BTS's Jimin and TWICE. They became the first winners in this newly created category and set a record for the fastest win (1 year and 4 months) for a K-Pop artist since debut.
NewJeans achieved remarkable success this year, securing the number one spot on the Billboard main album chart 'Billboard 200' with their mini-album 'Get Up', and simultaneously charting three songs on the main song chart 'Hot 100'. Their unique, lovely, and dreamy songs have captured the hearts of fans worldwide.
In their acceptance video, NewJeans expressed gratitude, saying, "It's an honor to be nominated alongside such respected artists. Without our mutual consideration, inspiration, trust, and unbreakable friendship, NewJeans wouldn't exist." They also performed their hit songs 'Super Shy' and 'OMG'.
Stray Kids made history as the first fourth-generation boy group to win a 'Billboard Award' trophy. They won the 'Top K-Pop Album' category with their third full album, '5-Star', released in June. This win marks their first in this category and positions them as the second K-Pop boy group, following BTS, to win at the 'Billboard Music Awards'.
Stray Kids has achieved remarkable success, charting four albums on the 'Billboard 200' within 20 months - the fastest pace for a K-Pop group and the second-fastest globally, following Taylor Swift's 16-month record. This win adds to their growing global popularity.
Stray Kids expressed gratitude for the award, attributing their success to fans' love for their music. They delivered powerful performances of 'Oddinary' and 'Rock-Star' at the ceremony.
Other K-Pop powerhouses, BTS and BLACKPINK, were also named winners. BTS's Jungkook won the 'Top Global K-Pop Song' category with his solo song 'Seven', while BLACKPINK clinched the 'Top K-Pop Touring Artist' award. Unfortunately, nominations for Jimin's 'Top Selling Song', FIFTY FIFTY's 'Top Duo/Group', and NewJeans's 'Top Billboard Global Artist (Excluding the U.S.)' did not result in wins.