Music
ITZY and IVE Set to Shine at KCON LA 2023: A Grand K-Culture Fest Awaits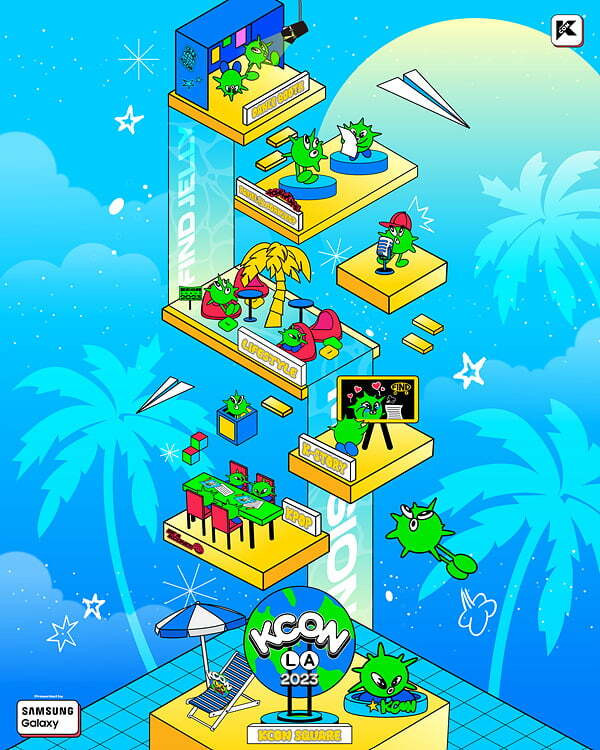 KCON stands out as the premier festival globally that disseminates the diverse allure of K-Culture through varied content. A significant aspect of KCON, the convention, is emblematic of KCON's essence, serving as the hub for everything K-Culture. The 'KCON LA 2023' is expected to enthrall attendees, especially the global Gen Z, with a slew of enriching experiences.
The theme is 'BE A KCONer'. A 'KCONer' is someone who, through K-POP and K-Culture, finds themselves, collaborates with others, and sets new trends.
The convention is meticulously designed so that after participation, attendees feel they've completed 'a journey'. They undertake missions in different sections, culminating in receiving an ID card as proof of being a true KCONer.
Key convention areas and programs include:
KCON SQUARE: Featuring the INTERACTIVE DIGITAL WALL, where fans can send real-time messages to artists, and the FANDOM program, enhancing the immersion from the outset.
KPOP: Attendees can take photos with artist AR filters, and write fan letters in the MESSAGE PLAYGROUND that the artists will read.
K-STORY: Choose an emotion like love, anger, or courage and receive famous lines from dramas or variety shows.
LIFESTYLE: Recharge in relaxation zones tailored to GenZ's digital habits.
DANCE ALL DAY: An audition platform for fans dreaming to share a stage with artists.
PANEL&WORKSHOP: Interactive sessions featuring notable figures in K-Culture.
KCON STAGE: The main stage for close encounters with artists and live streams.
CJ LIVE STUDIO: A visual radio show with LA celebrities and artists.
SHOWCASE: NICE TO MEET U: Featuring performances by groups like VERIVERY and 8TURN, and the recently announced addition of the debut group, RIIZE.
KCONers' Choice: Special booths for artists chosen by KCON attendees.
Starting from the KCON SQUARE, attendees will have the opportunity to send real-time messages to artists via an 'INTERACTIVE DIGITAL WALL', and there's also a 'FANDOM' program. These features aim to intensify the connection between audiences and K-Culture right from the outset.
In the 'KPOP' section, fans can snap photos with an artist's AR filter and pen down letters in the 'MESSAGE PLAYGROUND' for artists to read. In 'K-STORY', upon choosing an emotion such as love, anger, or courage, attendees receive renowned lines from dramas or variety shows as a keepsake. Factoring in Gen Z's digital inclination, a rest area where devices can be charged is set up in the 'LIFESTYLE' section.
For those aspiring to share a stage with artists, the 'DANCE ALL DAY' is the spotlight. It acts as a gateway to the Dream Stage. Here, fans and artists come together to adorn the Crypto.com Arena SHOW stage. The likes of ITZY, IVE, and ZEROBASEONE are slated to participate, promising active engagement from fans worldwide.
In the 'PANEL&WORKSHOP' sessions, influential figures representing K-Culture, such as artists and influencers, will conduct interactive programs. They'll share insights ranging from the lifestyle, culture, and interests of Gen Z to behind-the-scenes tales of globally acclaimed K-Content.
The 'KCON STAGE' allows fans to be in close proximity to artists. Various programs and live streams are on the agenda here. In 'CJ LIVE STUDIO', celebrities from LA and artists will engage in a talk show format that blends games and music.
Under 'SHOWCASE: NICE TO MEET U', where KCON's spotlighted artists perform and interact with fans, groups like VERIVERY and 8TURN have been confirmed. Additionally, the recent confirmation of the debut boy group, RIIZE, joining the lineup has skyrocketed expectations. They aim to communicate with global fans beyond the local stage via worldwide broadcasts.
Furthermore, 'KCONers' Choice' offers special booths dedicated to artists chosen by KCONers, among other interactive content that promises to captivate interest.
'KCON LA 2023' is scheduled from August 18 to 20, taking place over three days at the Crypto.com Arena and the LA Convention Center.