Music
BTS Members Surprise Fans at SUGA's Grand Finale Solo Concert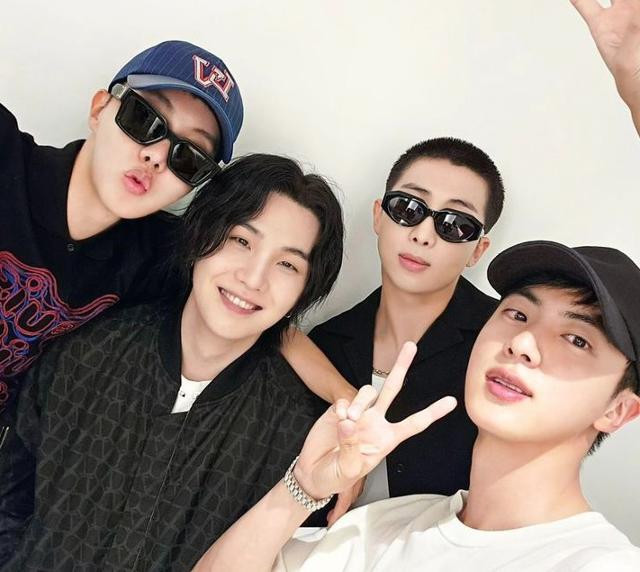 Members of the world-renowned K-pop group, BTS, gathered in support at SUGA's encore solo concert, displaying their unyielding bond.
On August 6, SUGA hosted his encore concert, 'SUGA | Agust D TOUR D-DAY THE FINAL' (hereinafter referred to as 'D-DAY'), at the KSPO DOME in Olympic Park, Songpa-gu, Seoul. This performance was live-streamed via Weverse.
Previously, SUGA met global fans by holding 'SUGA | Agust D TOUR D-DAY THE FINAL' in 10 cities worldwide, spanning 25 shows. The encore concert in Seoul marked the end of the 'D-DAY' concert series.
What especially caught the audience's attention during the fiery performance between the fans and SUGA was the surprise appearance of other BTS members. While Jungkook and Jimin had already supported SUGA's concert as special guests on the 4th and 5th, RM, along with Jin and J-Hope-who are currently serving their mandatory military duties-were spotted in the audience, further elevating the atmosphere.
After performing 'People' and 'People Pt.2', SUGA expressed his gratitude, mentioning J-Hope, who had choreographed for the song, saying he always feels like J-Hope is with him during the performance. Soon after, the jumbotron displayed Jin and J-Hope sitting among the concert attendees, which drew immense cheers from the fans. Both Jin and J-Hope, despite their ongoing military service, spiritedly greeted fans with a military salute.
The surprises didn't stop there. SUGA performed a duet, 'Strange', from his solo album 'D-2', which features RM. RM then joined SUGA on stage, delivering a flawless collaboration.
After the performance, RM shared his feelings about joining SUGA, expressing, "It's an honor to be a part of the grand finale of the journey SUGA undertook alone." Notably, RM, with his newly shortened hair, clarified, "I've been getting multiple messages about my hair, and it has nothing to do with enlisting. I just wanted a change because of the heat." However, RM also hinted that this might be his last live appearance before his own military enlistment.
In addition, RM premiered an unreleased solo track, showcasing his loyalty to SUGA and love for the fans.
With the members' heartwarming appearances, the energy in the venue reached its peak. Wrapping up the 'D-DAY' encore performance with the powerful support of the BTS members, SUGA hinted at a full-group BTS activity in Seoul in the future, saying, "I cautiously predict that the next time I perform in Seoul, all seven of us brothers will be on stage together." This statement garnered fervent cheers from the ARMY (official BTS fan club).