Celebrity
BTS Suga's Shoulder Tattoo Sparks Subway Panic? The Full Story Behind the False Alarm on Line 9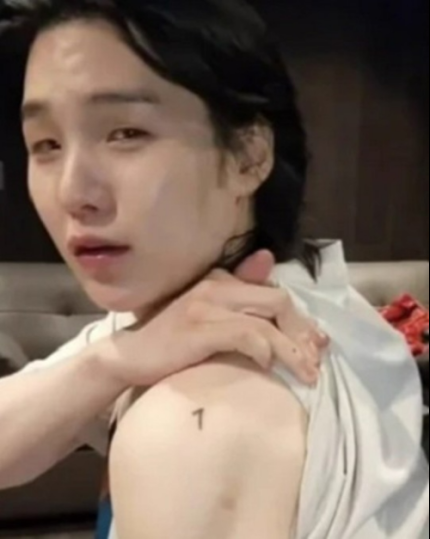 An incident that was misinterpreted as a violent disturbance on Seoul's Subway Line 9 was revealed to have been caused by the screams of fans of BTS member, Suga.
According to the police and fire departments, on the evening of August 6 at around 8:36 PM (KST), they received over 20 reports from passengers on an express train bound for Gimpo Airport, saying, "There's a strange smell", "People are running and falling", and "There's a violent person inside the station". Both police officers and firefighters were promptly dispatched to the scene.
Upon evacuating passengers and investigating both the interior of the train and its vicinity, they found no signs of gas leaks or any violent individuals.
On that day, when the train stopped at Sinnonhyeon Station, startled passengers rushed out, resulting in seven people suffering minor injuries like bruises and scrapes from falls on the stairs and platform.
Rumors Spread on Social Media
on July 21, in Sillim-dong, Gwanak-gu, Seoul, there was an incident where four people were harmed due to the actions of Cho Seon (33). Then on August 3, there was another violent incident in Seohyeon-dong, Bundang-gu, Seongnam City, where one person was killed and thirteen were injured.
Given these incidents, the police were focusing on random acts of violence. However, unverified rumors about a biochemical terrorist attack and a violent disturbance on Line 9 spread on social media.
Was the Misunderstanding Caused by Inconsiderate Fans?
Witnesses on the scene reported that the disturbance was caused by fans of BTS's Suga. These fans were on their way home after attending Suga's solo concert at K-Sport Dome in Songpa-gu, Seoul. Some of the fans, while watching a live broadcast by Suga on social media, screamed loudly when Suga revealed a tattoo on his shoulder. This alarmed other passengers who were unaware of the situation, causing a panic.
In fact, a video that captured the situation was posted online, showing several fans getting excited and screaming loudly when Suga displayed his shoulder tattoo during the live broadcast.
Netizens reacted to this news by commenting, "This is too disruptive during such a sensitive time", "These fans have no sense", "Now even the artist is getting unnecessary hate", and "Let's observe etiquette in public places".