Music
ITZY's Radiant Return: Set to Showcase Their Cool Energy in the Comeback Single 'CAKE' and Mini-Album 'KILL MY DOUBT' on July 31
The much-anticipated first release of 2023 from the 'Summer Queens', ITZY, titled 'KILL MY DOUBT', is set to unveil itself on July 31.
ITZY is making a dynamic comeback with the launch of their new mini-album 'KILL MY DOUBT' and the title track 'CAKE' at 6 pm on July 31. In the lead-up to the release, they've shared a plethora of teasing content, including concept clips, photos, album spoilers, documentaries, and music video teasers for the title track 'CAKE', as well as the other songs 'BET ON ME' and 'None of My Business'. These teasers have set an enjoyable comeback atmosphere among fans worldwide.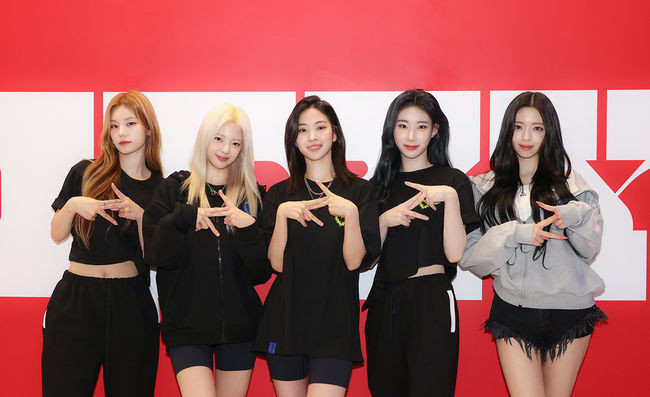 Title Track 'CAKE' Radiates ITZY's Cool 'Max' Charm
A formidable lineup of top-notch creators across various fields have rallied to support ITZY for this album. Expectations are particularly high for the title track 'CAKE', penned, composed, and arranged by Black Eyed Pilseung, the same team behind TWICE's hits such as 'OOH-AHH', 'CHEER UP', 'TT', and 'LIKEY'. The collaboration between Black Eyed Pilseung and ITZY has resulted in 'CAKE', a song that embodies ITZY's assertive and cool attitude, powered by energetic brass and dramatic drum sounds.
In the released music video teaser, the five members stimulate curiosity by giving a glimpse of the choreography, showcasing their playful charm, and collectively crafting a cake in the dance routine. With 'CAKE', ITZY, known for their cool and sophisticated charm, is set to amplify their title of 'Summer Queens' with a refreshing and zesty 'Max Cool' appeal.
New Release 'KILL MY DOUBT': A Grand Collaboration Album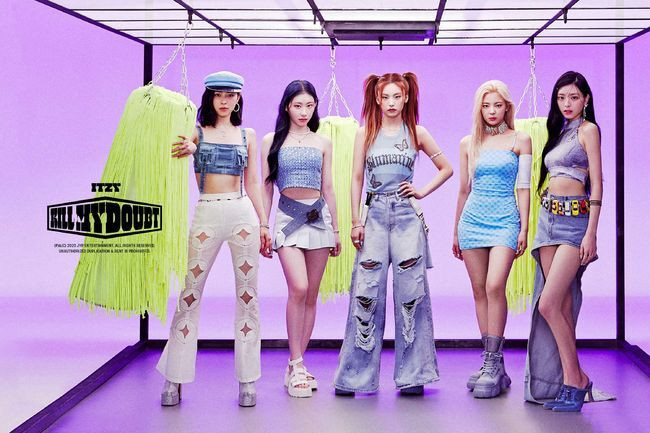 Track 1, 'BET ON ME', is a song with deep resonance inspired by conversations between JYP Entertainment's representative producer Park Jin Young and ITZY members. The music video, pre-released on July 3, which depicts the vigor of youth running towards the bright light, resonated with viewers, topping the YouTube Trending Worldwide chart and earning rave reviews. Fans are eagerly awaiting the official release of 'BET ON ME', harmoniously created by Park Jin Young and ITZY.
Track 3, 'None of My Business', exploded in synergy when it met the top performers. ITZY, K-pop's most shining performers on stage, donned the choreography of K-pop's representative choreography team LA CHICA, satisfying fans. Further feeding into the popularity of the pre-released music video, a performance video and dance practice video were opened, showcasing ITZY's strong performance-focused aspect, alongside the group's excellent expression in LA CHICA's Young and Hip choreography. The short-form challenge video featuring catchy point choreography has also gained popularity by word of mouth. The mini-album featuring a total of six songs, including 'Bratty', 'Psychic Lover', and 'Kill Shot', is expected to color the summer playlist with ITZY's diverse flavors.
A Special Summer with ITZY and MIDZY
With their comeback just a day away amidst fervent interest and support, ITZY is successfully operating the pop-up store 'ITZY 'KILL MY DOUBT' POP-UP STORE'. This pop-up store, which is full of various attractions, including album logos, signature colors, and participatory events, is currently welcoming visitors. The five members visited the site to celebrate the opening of the pop-up store, leaving autographs and loving messages in each space. The store, filled with traces of affection for the fans known as MIDZY, has become a special joy for the fans. The pop-up cafe, featuring cool beverages and cakes, as well as a space where all the songs can be heard before the official album release, is attracting many visitors. The pop-up store will be held at The Hyundai Seoul in Yeongdeungpo-gu, Seoul until August 9.
Meanwhile, ITZY's new mini-album 'KILL MY DOUBT' and the title track 'CAKE', filled with captivating charm to forget the summer heat, will be released worldwide simultaneously at 6 pm tomorrow. At 8 pm, a comeback showcase will be held both online and offline at the Seoul Olympic Park SK Olympic Handball Gymnasium, where the new song 'CAKE' performance will be revealed for the first time.