Music
BTS Festa Caps Off with Fireworks, Drawing 400,000 Enthused Fans for a 10th Anniversary Spectacular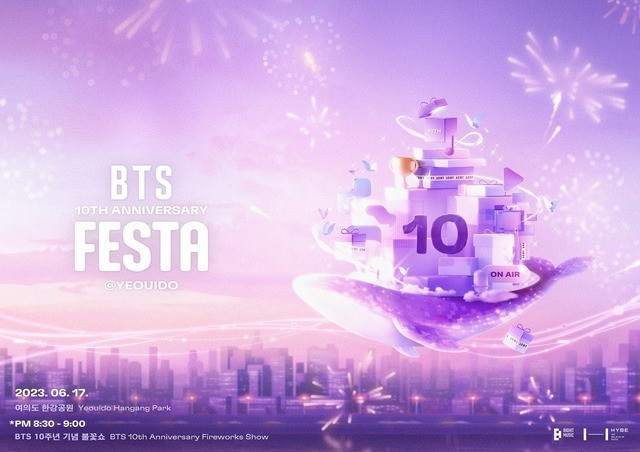 "It was a fantastic day. I'm happy to be part of the Army."
The main event of the group BTS's 10th anniversary celebration, 'BTS 10th Anniversary Festa @Yeouido,' drew to a successful close. From the opening of the experiential and exhibition space in the morning, through leader RM's visible radio '5 PM with Kim Namjoon,' to the highlight event 'BTS 10th Anniversary Firework Show,' a wealth of attractions was poured out incessantly. Fans, dressed in purple clothing and gathered in droves at the Yeouido Hangang Park despite a heatwave exceeding 30 degrees Celsius, enjoyed the festival with one heart and one mind, repeatedly chanting "BTS!" According to their agency, HYBE, the total number of visitors to the 'BTS 10th Anniversary Festa @Yeouido' was counted at 400,000 (350,000 in Hangang Park, and 50,000 in the surrounding area), of which an astonishing 120,000 were foreign visitors.
Global Village on Fire...Multinational Fans Gathered
In the morning, when the 'BTS 10th Anniversary Festa @Yeouido' was opened, the Yeouido Hangang Park was decked out with various experiential spaces for fans to fully enjoy BTS's 10-year journey.
Antis muggles fans armys citizens and even idols on their lives hearing the BTS 10th Anniversary Festa fireworks going off LMAOJSHSHABA pic.twitter.com/xw3UDNImia — K⁷ (@tksovers) June 17, 2023
These included the 'BTS History Wall' for a quick glance at BTS's 10-year history, the 'Run BTS' Costume Exhibition,' the '10th Anniversary Festa Commemorative Sculpture' with the 10th-anniversary slogan 'BTS PRESENTS EVERYWHERE' written on it, the 'BTS Family Photo Exhibition' set up as a photo zone, and interactive events such as 'Bring The Song: My Own BTS Playlist' and 'Tattoo Sticker Experience Booth'. As soon as they were open, hundreds of people flocked to these spaces. Despite the huge crowds, fans lined up in an orderly manner to take pictures, moving quickly to the next location in consideration for others. In front of the 'BTS Live Screen', where fans could watch together on a large screen, eye-catching scenes unfolded with fans singing along to music videos and stage performances while sitting on their mats. The event drew attention for the diverse nationalities gathered in one place. From Korea, Japan, China to the UK, the US, France, Denmark, and more, a multinational crowd flocked, creating a 'small global village'. There were also cases of people who became friends after arriving in Korea from different countries. Michelle from France, Sherne from Denmark, and Miffy from the UK were such examples. These three, who hopped on a plane to Seoul to enjoy the 'BTS 10th Anniversary Festa,' said they met at the 'BTS Night Landmark Spot' at Dongdaemun Design Plaza (DDP) and have been moving around together like a group ever since.
Mikrokosmos fireworks performance at bts festa 2023 pic.twitter.com/XQp0gMQa2n — 𝓮𝓻𝓲𝓷𝓪⁷ | lilith #TakeTwo (@agstdnim) June 17, 2023
Michelle said, "Having BTS as a common interest, we quickly became friends, so close that we even share sunscreen." Sherne added, "The unexpected heat and hot sun could be a bit exhausting, but there's so much 10th-anniversary content to enjoy that it's fun. After the fireworks tonight, we're going to eat Samgyeopsal, which the BTS members often eat." Miffy then chuckled, saying, "BTS and the Army are tied with one connection. We just made a new Korean (Korean fan) friend. Four of us will enjoy the festival together."
There were also cases where grandmothers and granddaughters visited the venue hand in hand. Kim Hee-Ya, an 80-year-old woman from Mok-dong, Yangcheon-gu, Seoul, exclaimed, "There are so many foreigners here, it's hard to tell whether this is Korea or overseas." She went on to say, "Because my granddaughter loves them so much, I've come to enjoy BTS's music, and that's why we're here at the festival together," and proved herself to be a genuine fan, saying, "I really love the song 'Spring Day'." Her granddaughter, An Sung-Hee, caught people's attention by urging her grandmother, saying, "If we don't hurry up, we won't be able to see RM."
A Fan Experience Like No Other
The events culminated in the BTS 10th Anniversary Firework Show, a fitting finale to the day's activities. As the sky darkened, fans eagerly awaited the spectacle, which was set to music and interspersed with video clips of BTS's journey over the past decade. It was a breathtaking spectacle, the sky lit up with multicolored fireworks and the sounds of BTS's hits echoing throughout the park. The crowd erupted into cheers and sang along to every word, waving their ARMY Bombs (the official BTS light stick) in unison.
BTS FESTA FIREWORKS SHOW

Happy 10th year anniversary BTS pic.twitter.com/3oaIqRu4d7 — Nelson Obrador (@nelson_obrador) June 17, 2023
The members of BTS themselves were not physically present, but they did address their fans through a video message, expressing their gratitude and love for the ARMY. "Thank you for supporting us for a decade," said BTS's leader, RM. "Your love and support have been the driving force behind our success. We hope to continue making music that can bring comfort and joy to our ARMY all over the world."
For many fans, the event was a special and unforgettable experience. It was more than just a chance to celebrate BTS's 10th anniversary; it was an opportunity to connect with other ARMY members from around the world and share in the joy and excitement of supporting BTS.
"Despite the heat, I'm glad I made it here," said a fan named Ji-Eun from Incheon. "The fireworks were amazing, and being able to share this moment with other ARMY members was so special. I'll definitely remember this day for a long time."
The 'BTS 10th Anniversary Festa @Yeouido' has left an indelible mark on BTS's 10-year journey, representing not just the group's success, but also the love and passion of their dedicated fan base. It is clear that BTS's impact extends beyond music, fostering a global community of fans united by their shared love for the group. As they look ahead to the future, the ARMY's support will undoubtedly continue to fuel BTS's journey for many more years to come.