Music
Stray Kids Shatters K-pop History with '5-STAR', Selling Over 4.61 Million Copies in the First Week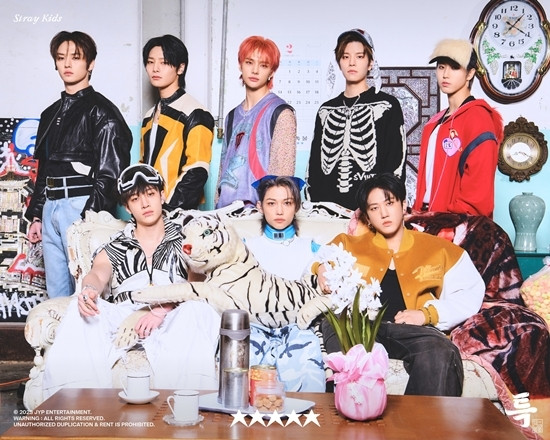 K-pop sensation Stray Kids has etched its name into the annals of K-pop history.
On the afternoon of the 8th, Stray Kids' third full-length album '5-STAR' recorded an unprecedented first-week sales volume of 4,617,499 copies according to the music record aggregation site Hanteo Chart.
This achievement sets a new record for K-pop album sales in the first week, making Stray Kids the indisputable trailblazers in the music industry. It further validates the confidence embodied in their self-assigned 'five-star' status.
The third album '5-STAR', as of May 30th, achieved a record-breaking 4.93 million pre-orders, setting the 'highest-ever pre-orders for a K-pop album'. The album's sales surpassed 5.13 million on June 1, further elevating expectations for a record-breaking debut week.
Within two days of release, it hit the double-million seller mark with 2,392,666 copies sold according to the Hanteo Chart. By the 8th, the sales volume had more than doubled the initial sales of their previous mini-album 'MAXIDENT', crowning Stray Kids as the new champions of K-pop history.
Stray Kids ascended to their first million-seller status with their second full-length album 'NOEASY' in 2021 and flew even higher as double and triple million-sellers with 'MAXIDENT' in 2022. The third album solidified them as 'JYP Entertainment's first-ever quadruple million-seller artist'.
In addition, Stray Kids, who uniquely topped the US Billboard main chart, 'Billboard 200', with two consecutive mini-albums 'ODDINARY' and 'MAXIDENT' in 2022, are generating even more anticipation for their global record-breaking journey with their new album.
Meanwhile, their title track 'TTEUK' broke their own record for the highest number of daily streams on Spotify and ranked 42nd on the Daily Top Songs Global Chart as of June 2nd (local time). It also entered the Daily Top Songs US Chart at a personal best of 89th.
Furthermore, Stray Kids topped Japan's largest record shop Tower Records' Daily Sales Chart on June 7, the Hanteo Chart Weekly Album Chart (May 29 - June 4, 2023), and the Circle Chart 22nd week Album Chart (May 28 - June 3, 2023), demonstrating their phenomenal popularity.
Recently, Stray Kids sold out all seats for their standalone fan meeting, continuing their unstoppable momentum. Tickets for their third standalone fan meeting, 'Stray Kids 3RD FANMEETING 'PILOT: FOR 5-STAR'' were all sold out, even for the additional seats that were opened on the 7th.
The fan meeting will take place over two days, on July 1 and 2, at the KSPO DOME in Songpa-gu, Seoul. The final day's performance will also be live-streamed through the Beyond LIVE platform.