Music
Stray Kids' 'Five Star' Sets Impressive Records: A New Wave in K-Pop Industry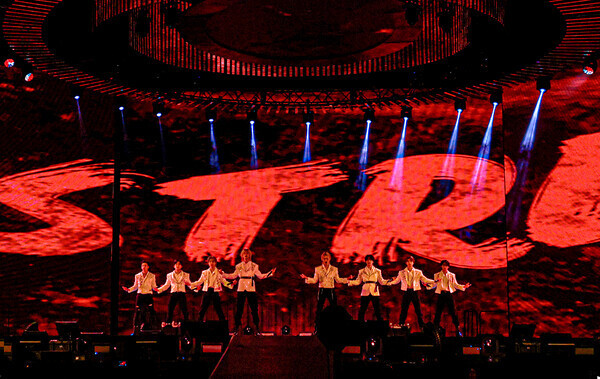 South Korean boy band Stray Kids released their third studio album, "Five Star", on June 2, surpassing two years since their last full-length album 'NOEASY' in August 2021. The title track, "S-Class", symbolizes the group's distinctive and shining uniqueness among all the peculiarities, an upbeat track produced by the group's in-house production team 3RACHA consisting of members Bang Chan, Changbin, and Han.
Stray Kids have been consistently growing through their music, and the new album is no exception, reflecting their continued growth. Often tipped as successors to BTS, Stray Kids have proven once again with this album why they command such attention. By examining the records they've set and could set with this album, we can piece together the group's current status and potential future.
Record-breaking Pre-order Sales: Over 5.13 Million
According to their label JYP Entertainment, "Five Star" amassed over 5.13 million pre-orders, a record-breaking figure in K-pop history. The previous record was held by SEVENTEEN with their tenth mini-album 'FML', which saw 4.64 million pre-orders. Stray Kids shattered this record within a month, and further set a new landmark as the first-ever to exceed 5 million pre-orders in K-pop, indicating a soaring anticipation for the group.
Pre-orders signify the quantity of albums ordered before its release based on factors such as market expectation and anticipation for the album. It's different from actual purchases made by fans ahead of an album's official release. The doubling of pre-order figures from their previous mini-album 'Maxident', which had 2.37 million pre-orders, signifies the growing expectation for Stray Kids.
Long term, cumulative sales are bound to exceed pre-order figures. 'Maxident', despite having 2.37 million pre-orders, significantly outperformed its pre-order count in cumulative sales. It will be intriguing to see how and when 'Five Star', having set an impressive record of 5.13 million pre-orders, surpasses this number in actual sales.
Becoming 'Double Million Sellers' in a Single Day
While pre-order volumes indicate market expectations, the scale and strength of a group's fandom can be evaluated by looking at actual album sales. First-week sales, in particular, are crucial. Stray Kids achieved Double Million Seller status within a single day of release, selling 2,392,666 copies (according to Hanteo Chart).
The term 'million seller' has become synonymous with Stray Kids. They first joined the million-seller ranks three years after their debut with their second full-length album 'NOEASY', which also became the first million-seller album produced by JYP Entertainment. Their subsequent album 'Ordinary' also achieved million-seller status. However, both albums did not reach million-seller status in their first week.
It was during the 'Maxident' era when Stray Kids first became 'first-week million sellers'. 'Maxident' sold 1.38 million copies on its release day, becoming a 'first-week double million seller' by the sixth day. 'Maxident' continued to sell steadily, surpassing 3 million in sales and becoming a triple million-seller.
Stray Kids have continually shortened the time to achieve million-seller status, achieving double million-seller status within a day of 'Five Star's release. First-week sales have already surpassed 2.7 million. At this pace, becoming a 'first-week triple million seller' could be a reality.
Another Top Spot on Billboard 200 for Stray Kids?
Stray Kids' record-breaking streak extends beyond just album sales, as they've made a significant impact on the Billboard charts, specifically the main chart 'Billboard 200'. The group has consistently proven their worth on this chart with their two previous albums, 'Ordinary' and 'Maxident', both of which reached the top spot on the Billboard 200.
The popularity Stray Kids enjoys in North America is fuelling expectations of another chart-topping performance on the Billboard 200. Having conducted their 'Maniac' world tour in 42 locations across 18 regions worldwide, Stray Kids have become the second K-pop boy group to successfully sell out a stadium concert in North America. Moreover, the inclusion of two original English songs, 'Super Bowl' and 'Youtiful' on the album, intended as a nod to their global fandom, could work to their advantage on the global charts.
While several K-pop groups have made it onto the Billboard 200, only five have reached the top: BTS, SuperM, Stray Kids, BLACKPINK, and TOMORROW X TOGETHER. Among these, only BTS (6 times) and Stray Kids (2 times) have reached the top spot more than once. The question now is whether Stray Kids can continue this trend by hitting the top spot on the Billboard 200 for a third consecutive time, thereby closing the gap on BTS's record.