Music
aespa Wraps Up 'Spicy' Promotions with Double Million Seller Achievement and Chart-Topping Success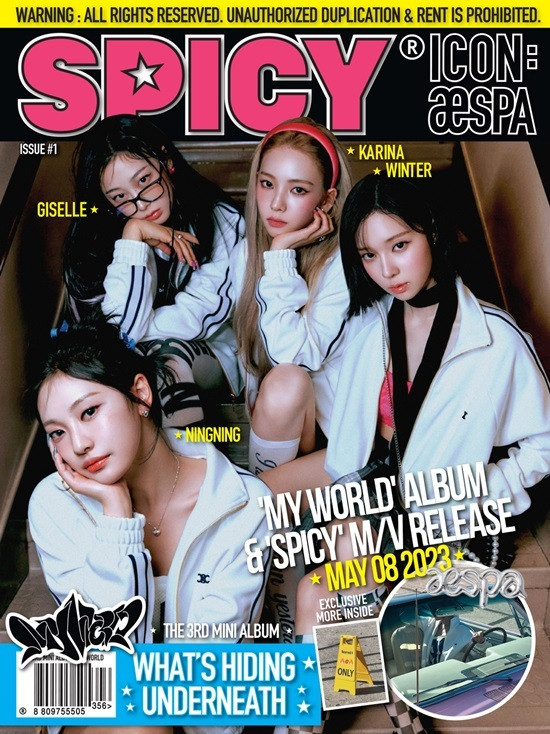 South Korean girl group aespa has successfully concluded the promotions for their comeback single 'Spicy' after a 10-month hiatus.
Since the release of their third mini-album 'MY WORLD' on May 8th, aespa has been actively involved in various music shows, radio broadcasts, YouTube content, university festivals, and fashion events.
Their persistent popularity and hot topic generation has been consistent, even after a 10-month gap. Here's what aespa left behind from this promotion period.
#Record-Breaking Album Sales
aespa made dazzling records with this album, starting with the highest-ever pre-order amount for the group (1.8 million copies). The album also set the record for the highest first-day sales (1,372,929 copies, based on Hanteo Chart), highest initial sales (1,698,784 copies) for a K-pop girl group, and double million seller record by selling over 2.01 million copies.
Particularly impressive is the fact that aespa achieved this feat with a mini-album just 2 years and 6 months after their debut, once again reinforcing their strong album power.
#Quadruple Crown on Major Domestic and International Charts and Music Shows
Their title track 'Spicy' not only topped daily and weekly charts on major music sites such as Melon, Genie, and Bugs, but also swept trophies on music programs like Mnet's 'M! Countdown', KBS 2TV's 'Music Bank', MBC's 'Show! Music Core', and SBS's 'Inkigayo'.
Not just 'Spicy', their other tracks 'Thirsty' and 'Salty & Sweet' also ranked high on major music charts and received a positive response.
#'Spicy' Challenge to Cannes Red Carpet, Shining 'Global Topic'
aespa made a notable splash with the '#SpicyChallenge', which features a fun and vibrant 'Cool' performance depicting eating spicy sauce, alongside a confident and flashy 'Hot' performance.
The 'Spicy' challenge drew attention with participation from various stars like BoA, NCT's Jungwoo, Kara's Hur Young-ji, BTOB's Seo Eunkwang and Lee Chang-sub, MONSTA X's Jooheon, (G)I-DLE's Miyeon, Lee Saerom, TV personality Park Myung-soo, and Kim Ho-young.
Furthermore, aespa attended the red carpet event of the 76th Cannes Film Festival held on May 24th (local time), ahead of the official screening of the competition film 'The Pot-AU-FEU'. This was the first time a K-pop group attended the Cannes Film Festival since its inception, reasserting aespa's global influence.
#Forewarning Full-scale Global Activities
Having successfully completed their 'Spicy' promotions, aespa is launching their first solo concert tour 'SYNK: HYPER LINE' across America and Europe. After conducting a total of 10 performances in Osaka, Tokyo, Saitama, and Nagoya in Japan, aespa will move on to Jakarta, Indonesia on June 24th and Tokyo Dome on August 5th and 6th, before heading to LA, Dallas, Miami, Atlanta, Washington D.C., Chicago, Boston, and Brooklyn in the United States for their first solo concert in eight cities.
In September, they will tour six major cities in Latin America and Europe, including Mexico City in Mexico, São Paulo in Brazil, Santiago in Chile, Berlin in Germany, London in the UK, and Paris in France. Notably, after selling out all 10 performances in Japan, aespa also sold out the Jakarta concert immediately upon ticket opening, proving their strong ticket power and confirming the high interest of global music fans.