Music
2PM's Wooyoung Launches First Solo Tour in Japan after Five Years, New Album Release Set for June 7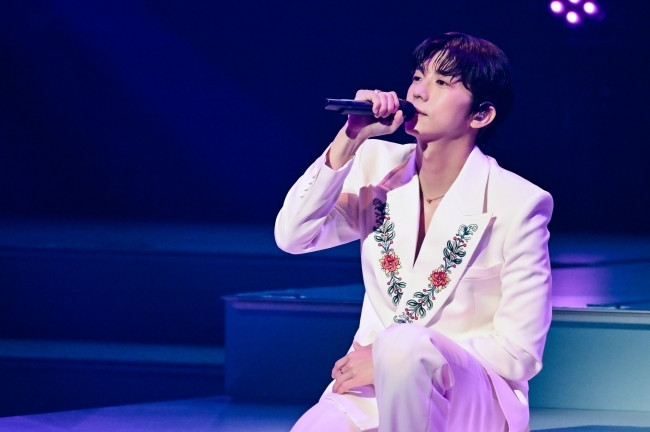 2PM's Wooyoung has announced the start of his first solo tour in five years, kicking off with a standalone concert in Fukuoka, Japan.
On May 24, 2PM's Wooyoung held his solo performance at the Sun Palace Hotel & Hall in Fukuoka, Japan, meeting fans. This performance, marking his first since his concert in Budokan, Japan in December 2017, opened the curtains on his 2023 solo tour, 'WOOYOUNG (From 2PM) Solo Tour 2023 'Off the record',' gathering high anticipation from local fans.
The ambiance was set by jazz music reflecting Wooyoung's personal taste, and a white upright piano engraved with Wooyoung's logo added to the excitement. The melody of "AmanogawaGALAXY" which he had sung at the final performance in Japan in winter 2017 promising, "I will surely come back," resonated beautifully from the piano before Wooyoung finally made his appearance. Keeping his promise to the fans from five years ago, he greeted the audience with a bright smile saying, "I'm back!" and was warmly welcomed by the crowd chanting his name. With a greeting that said, "Welcome to my solo tour 'Off the record'. We start in Fukuoka," Wooyoung officially began his new solo tour.
He performed a medley of representative songs starting with his Japanese debut single 'R.O.S.E,' followed by 'Going Going,' 'THE BLUE LIGHT,' among others. He delighted the audience with his charming vocals and high-quality performances throughout the setlist of 23 songs. The performances synced with the band offered a unique charm with acoustic sounds. In particular, the title track 'Off the record' from the special album set to release on June 7th was performed for the first time, eliciting an explosive reaction. His smooth dance movements matching the groovy sound proved his words, "I wanted to stand before you with a really good song," garnering enthusiastic responses.
After successfully concluding the first concert of the 'Off the record' solo tour in Fukuoka, Wooyoung is set to continue the heat in Yokohama on May 28th, Tokyo on June 3rd, and Osaka on June 10th and 11th. The best performances that amalgamate Wooyoung's colorful charm are expected to satisfy fans' long anticipation and prove his steady popularity and strong position in Japan.
Wooyoung is officially releasing his special album and third mini-album, 'Off the record,' in Japan on June 7th. He showed off his musical prowess by personally participating in the writing and composing of all five songs on the album. The title track contains a sweet message of confessing love while giving advice about love issues, implying that the listener is the object of his affection. The song and the music video were pre-released on the 23rd, starting a wave of popularity.