Music
The Reign of K-Pop Girl Groups: From Reliable Music Queens to Trustworthy Album Champions
"One well-raised daughter can be worth ten sons." Nowadays, the faces representing various music agencies are no longer boy groups, but girl groups. They are not only popular but also highly profitable, truly becoming the centerpiece of their companies.
Over the past month, K-pop girl groups have been sweeping the music charts and album sales. Successive comebacks from IVE (April 10), Le Sserafim (May 1), aespa (May 8), and (G)I-DLE (May 15) have resulted in dominating the top spots of music charts. Additionally, their record-breaking first-week album sales, reaching over a million each, is evidence of the current "Girl Group Era."
The overwhelming influence of popular girl groups in digital music is no secret. Since the exceptional performance of the 4th generation girl groups last year, throughout the first half of this year, girl groups have continuously topped the music charts. Recent comebacks like IVE's 'Kitchy' and 'I AM,' Le Sserafim's 'Unforgiven,' aespa's 'Spicy,' and (G)I-DLE's 'Queenka' have each claimed the top spots on Melon's Top 100 and real-time charts (as of 11 a.m., May 23).

Interestingly, the power of girl group album sales has significantly increased. All four recently returned girl groups have recorded over a million first-week sales, causing a stir in the industry. To be precise, IVE's first full album 'I've IVE' had 1.1 million first-week sales, Le Sserafim's first album 'Unforgiven' sold 1.25 million copies, aespa's third mini album 'My World' achieved 1.69 million sales, and (G)I-DLE's sixth mini album 'I Feel' broke through with 1.16 million sales.
In particular, aespa, which surpassed 1.12 million first-week sales with its previous work 'Girls,' became a double-million seller with the sale of over 2.01 million copies of its new release within two weeks. Following BLACKPINK's 2 million album sales with 'Born Pink' last September, aespa also now boasts album sales prowess that not only surpasses a million but aims for double millions.
A few years ago, girl groups dominated the digital music market, while boy groups dominated album sales. As a result, the formula was girl groups for mass appeal, boy groups for fandom. However, recently, girl groups have been capturing both the public's attention and a fanbase, significantly contributing to sales. Now, girl groups are not only the 'Reliable Music Queens' but also the 'Trustworthy Album Champions.'
Moreover, they are fulfilling their roles as "profitable daughters" for their agencies by expanding their concert tours to the same level as popular boy groups. BLACKPINK is currently conducting the largest-scale world tour by a K-pop girl group, 'Born Pink,' which reportedly earned $78.48 million (approximately 104.8 billion KRW) in just two months. TWICE became the first K-pop girl group to sell out LA's 70,000-seat 'SoFi Stadium.' aespa is set to make their debut at Tokyo Dome in August, marking the fastest entry for a foreign artist since their debut.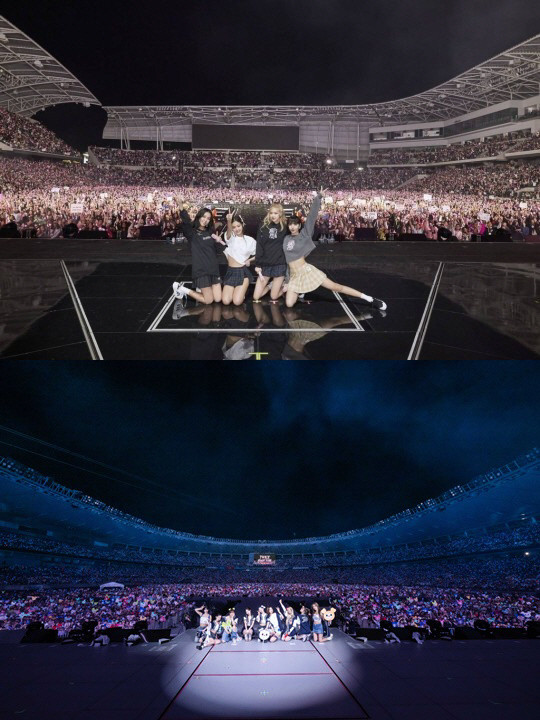 Within the music industry, it's recognized that girl groups hold a significant stake in the revenue and operating profits of their affiliated entertainment companies. In fact, YG Entertainment has posted record-breaking figures this quarter, with an astonishing 108% increase in sales revenue compared to the same period last year, racking up 157.5 billion KRW. This comes largely due to the exceptional performance of BLACKPINK, who conducted 14 world tours in this quarter alone. YG's operating profit also soared by 497% to 36.5 billion KRW.
Likewise, JYP Entertainment has seen their highest ever performance since their foundation, largely due to the success of TWICE. This quarter, their album sales accumulated to 1.78 million copies, the most amongst JYP's roster of artists. In addition to this, TWICE's world tour, which included performances in American stadiums, led to concert sales that totaled 6.7 billion KRW. This reflects a 105.7% increase compared to the same period last year.
An industry insider shared, "Most companies are focusing their efforts on girl groups. Boy groups, on the other hand, tend to take a relatively longer time to hit the big time. Comparatively, popular girl groups quickly establish their position. Nowadays, many groups use YouTube content to appeal to global fans and the general public, and girl groups can easily guarantee mass appeal through such content. In terms of music, while boy groups are often performance-oriented, girl groups offer many easy-listening songs, making it easier to promote their music. Moreover, the current popular girl groups not only appeal to the mass public, but they are also securing a core fandom. In the past, girl groups relied heavily on advertising revenues due to their high recognition, but now they are also profitable in terms of album sales, concerts, and merchandising. Naturally, securing mass appeal can increase the potential for a dedicated core fandom. Particularly these days, there are a lot of 'female fans' with purchasing power, so it's crucial to cater to them starting from mass appeal. Currently, girl groups with a large female fanbase are achieving excellent results in album sales."