Celebrity
BLACKPINK Hangs Out With Selena Gomez During 'BORN PINK' Tour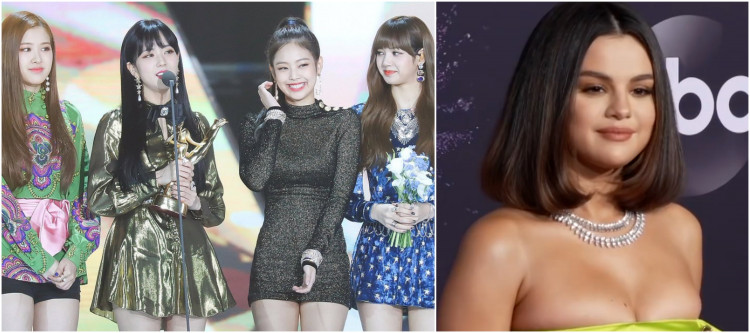 American pop star Selena Gomez recently hung out with the four members of BLACKPINK, during the latter's world tour called the "BORN PINK" tour.
Gomez posted photos with the K-pop band quartet on her Instagram handle, captioning it as "Selpink chillin". The caption is a reference to the lyrics of the singer's collaboration song with BLACKPINK titled "Ice Cream", which was a massive hit the world over.
The song, which was in English, was released in 2020 and peaked on the Billboard Hot 100 at the #13 spot. Reportedly, Gomez is close to the BLACKPINK members that comprise Jisoo, Jennie, Lisa, and Rosé since the making of "Ice Cream".
The collaboration song during the COVID-19 pandemic, a time when there were strict restrictions on traveling. The two musical acts could not meet and had to shoot the music video for "Ice Cream" in separate places.
Though Selena Gomez has been photographed with Rosé and Jisoo during a fashion show in New York City in 2019, fans have speculated whether the American singer had ever met all four BLACKPINK members together.
Now fans are happy to see all five of them in one frame and are guessing on special media platforms that they met at the Prudential Center in New Jersey, based on the outfits worn by BLACKPINK. Selena Gomez is presumed to have attended the Newark concert. The photos show the celebrities embracing each other sweetly.
In a previous behind-the-scenes video from the filming of "Ice Cream" Gomez had spoken about her work with BLACKPINK, mentioning that the K-pop group was very known for both their videos and their personalities and so she felt like she had to step into their world a little bit.
Meanwhile, the mega K-pop group recently wrapped the USA leg of their world tour. The US shows were attended by other famous celebrities. Latin American Popstar Camila Cabello performed in the first two concerts, which took place in Tinseltown Los Angeles. She took to the stage with Jisoo, for the latter's solo rendition of "Liar".
Later on, posted photos of the on-stage collaboration with Camila, with the caption saying that it was so much fun singing with Camila Cabello. She also thanked the Latina superstar for making her stage shine even brighter. Jisoo also added that Cabello's outfit made out of BLACKPINK's tour merch was so cute.