Celebrity
BTS: Kim Taehyung 'V' Gifts ARMY Bomb To Fan During Las Vegas Concert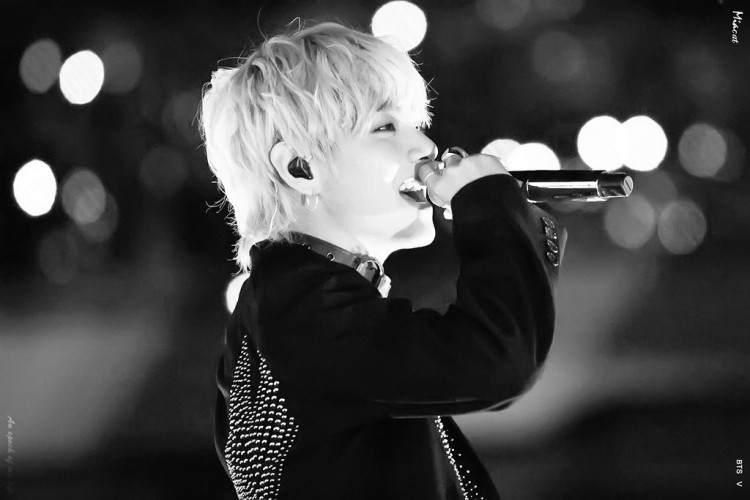 The second day of the "Permission to Dance on Stage" Las Vegas concert on Saturday, April 9 at the Allegiant Stadium saw BTS member Kim Taehyung gifting an ARMY bomb to a fan.
In a fan-shared video on Twitter, V is seen walking towards the stage's edge, after which he climbs down and throws the ARMY bomb at a girl standing close by.
As the fan is successful in catching it, those standing near and around her are heard screaming and shouting at the gesture of V's. The girl is, naturally, seen in a state of shock as she widens her eyes unbelievingly and sits down on the floor.
A few moments later, Taehyung is seen returning to the edge of the stage, and while looking at the same girl he puts a finger on his lips and gestures to her to not reveal this secret to anyone.
Incidentally, ARMY Bombs are the Bangtan Boys' light sticks, which are used by the fans during the K-pop band's concerts or events. It represents the ARMY's support for BTS.
Taking to Twitter, one fan mentioned that he was standing right behind the girl who received the ARMY bomb from V. They added that Taehyung gave it to the girl because she did not have any during the ARMY bomb wave.
Meanwhile, during the Las Vegas concert's first show, Taehyung had thrown a bouquet at a fan in the audience. He tossed the bouquet after calling the person, who however tossed it back to V. At first, the much-loved K-pop megastar looked surprised, but then he smiled and uttered Ah okay okay, and walked away with the bouquet.
Fans are now looking forward to the highlights of the two remaining shows of the Las Vegas concert.
In other news, V stepped out after his two concerts ended to play golf in Las Vegas. The South Korean artist shared his golf playing day-outs on his Instagram stories.
The artist was seen in a white T-shirt won with matching shorts, shoes, and a cap. In one of the videos, people in the background were heard saying "Good Shot", after V made a shot. In another of the shared snippets, Taehyung was seen making a birdie and high-fiving the cheering people around him.