Music
Read: Oh My Girl Reveals 'Closer' Is Originally A Worship Song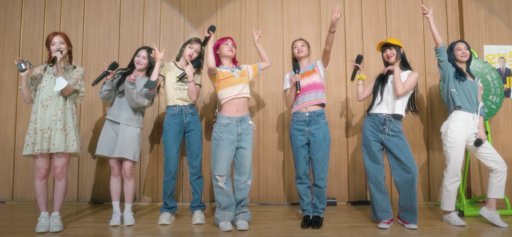 Oh My Girl reveals that the track 'Closer' was originally a praise song. Closer is the second extended play (EP) by the South Korean girl group Oh My Girl.
This song is the reason that solidified the girl group's oneiric and innocent image and brought them to be one of the popular female groups in Korea. This song remains one of the hidden gems of K-pop, not just because it's a gorgeous song but also because it is one of the coolest concepts around.
The whole music video is one enchanting fairytale. Recently, Oh My Girl appeared in the MMTG, hosted by MC JaeJae, and revealed that the song 'Closer' wasn't mean to be a K-pop song.
According to Jiho, the song was originally made as a praise song as part of contemporary Christian music.
During the show, Oh My Girl's Jiho shared, "Closer wasn't meant to be a K-pop song, but it was supposed to be an American praise song. But when we first listened to the demo track, we liked it so much that we begged to get the song."
Jaejae had a revelation when Oh My Girl revealed that the original 'Closer' meant being closer to the higher one up there. The Korean lyrics themselves were written about a sad love story rather than being closer to a spiritual being.
However, it could also be very well interpreted as, "One step closer, my heart. A hand's width closer to you. Before the sun gets erased, I pray I will get to you."
'Closer' was released by WM Entertainment on October 8, 2015, and was distributed by LOEN Entertainment. The song was positively received by several American music critics, making the K-pop top 20 year-end lists of Billboard and Noisey.
In other news, SM Entertainment's Aespa has occupied the numero uno position in the Girl Group Brand Reputation Ranking for June. The Korean Business Research Institute revealed that the girl group had pushed Brave Girls to second place in the list.