Celebrity
BTS Spill New Surprising Facts About Themselves On 'Let's BTS'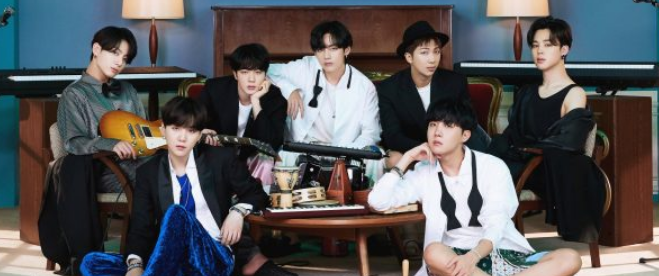 BTS revealed new details about their lives in the much-awaited 100-minute special Let's BTS, which aired on KBS in South Korea on March 29.
The septet gamely shared how they've been dealing with the lockdowns, while still working and performing, albeit virtually, at the 2021 Grammy Awards.
With hosts Shin Dong Yup and Jang Do Yeon, Let's BTS opened with the boys performing to "Dynamite," their most popular, award-nominated song. After their number came the tributes from other South Korean VIPs who have made it big outside of their country.
Jo Sumi was first to appear in a surprise video call to discuss the Bangtan Boys' Grammy nomination. Like BTS, Sumi, a soprano, also received a Grammy nomination in 1993 for Best Opera Recording.
She said that she became a K-Pop listener because of BTS. Now based in Roma, Italy, Sumi said that the boys are also quite popular among the Italians and there's even a coffee drink named after Jimin where she lives.
Let's BTS also featured London-based soccer idol Park Ji Sung who said that he has heard BTS songs played on World Cup stadium during their matches. In the streets of England, British girls and boys would sing along to their hits even if they don't understand Korean.
After the tributes, it was time for the boys to dish about themselves. They first talked about their Grammy nomination and performance.
RM, as the group leader, led the conversation and said that the nomination was the biggest surprise of his life that he threw his phone in excitement. His bandmates joked that, thankfully, the phone is still intact.
The boys also talked about their love for the parents. Jungkook revealed that his phone's screensaver is a photo of his mom and dad. It's no secret that K-Pop groups have to live away from their family and board together in one house so they could effectively work with each other.
RM, on the other hand, said that he no longer receives an allowance from his parents, which is common in Asian families. He has learned to manage his own money since succeeding as a member of BTS.
The group also discussed their work and J-Hope confessed that he's had the hardest time learning to do the choreography for the song "On." Incidentally, the band unanimously picked this song to be their opening performance once concerts are back post-pandemic.
V, on the other hand, said that his most memorable BTS performance was during the Love Yourself: Speak Yourself stadium tour in Seoul in 2019. When pressed for his most embarrassing moments, the ever-confident V said that he doesn't get embarrassed quite easily.
The septet also talked about how much they are inspired by each other's talents and work habits. They exchanged compliments about each other's best traits or how much they have grown outside of their comfort zones as singers or dancers. Suga said that he finds Jin the funniest of the group while Jungkook hailed RM for his leadership. He said that he wouldn't have stuck it out with BTS if not for his guidance.
According to KBS, Let's BTS with English subtitles will be up on their YouTube channel on March 30 for its global audience. (Business Times)