Celebrity
BTS Members' Favorite Movies, Shows And Hollywood Celebrity Crushes Unveiled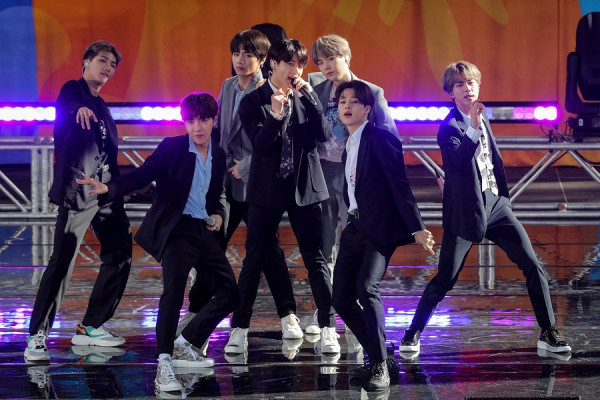 The seven members of BTS likely have busy schedules all the time. With their current popularity and success, it is not surprising that they are always focused on their career.
Despite being occupied with projects in the world of South Korean entertainment, the septet still finds time for their hobbies and interests. These include watching films, television shows, and even anime series materials.
Koreaboo revealed some of the K-Pop idols' favorite titles, both local and international. Based on the list, V seems to be the member who loves to binge-watch movies and series the most.
Among all, the "Winter Bear" singer has the most number of favorite international films. These include About Time, Midnight In Paris, and Born To Be Blue. As for his preferred local titles, V likes You Are The Apple of My Eye and Crows Zero.
Both RM and Jin each have two favorite films on their own. While the group leader favors Me Before You and Leon, the eldest of BTS loves Boys Over Flowers and Pretty Woman. The same is also true for Sugar as he loves Tazza: The High Rollers and Legal High.
Meanwhile, Jimin and J-Hope each only have one favorite film. For the "Filter" singer, he named Cold Eyes as his top choice, while the group's rapper said Pained is his most favorite material.
As for Jungkook, he loves several materials, like V. However, he is more inclined to watching anime series than any other kinds of films and shows. Nevertheless, he still revealed Love 911, and I Give My First Love To You as his top choices.
In terms of anime titles, the "Golden Maknae" of BTS has tons in store. He loves The Girl Who Leapt Through Time, Free!, Anohana: The Flower We Saw That Day, and 5 Centimeters Per Second, to name a few.
The rest of the group, also, loves watching such kinds of series, as well, like Jungkook. These include One Piece, Naruto, Slam Dunk, My Hero Academia, Haikyuu!!, and Spirited Away, according to a separate report from Koreaboo.
In other related news, the seven members, also, previously revealed their Hollywood celebrity crushes. Jin named Anne Hathaway as his crush, while J-Hope said Amanda Seyfried is his, "without hesitation."
Rachel McAdams is another popular choice among the K-Pop idols as she was mentioned twice by V and Jimin. RM, later on, revealed that he has a crush on Blake Lively, while Suga named Scarlett Johansson.
Although the hyungs of BTS did not shy away from unveiling their Hollywood crushes, Jungkook, reportedly, dodged the question. Instead of naming his crush, he said that he could not remember the name nor the title of the movie. (Business Times)