Celebrity
TXT's Taehyun Unveils Meaning Behind Big Hit's Flattering Idiom 'There's Hobi In You'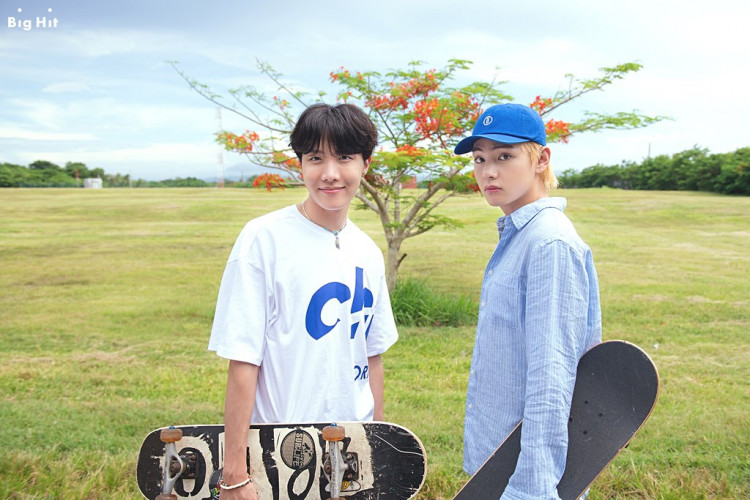 Recently after TXT member Taehyun's photoshoot, he has received a compliment from the Big Hit Entertainment staff after doing well.
Taehyun shares this episode of being told "호비있다" ("There's hobi in you" / "You've got hobi") as a compliment by the staff when he was posing well. As noted, Hobi (J-Hope) has the reputation of doing everything so well whether he got directions or not.
Hobi Is Doing Well On His Field
J-Hope has been recorded to have done well in the music scene. His Chicken Noodle Soup track debuted at No. 81 on the U.S. Billboard Hot 100 chart in 2019. J-Hope has become the third Korean soloist to debut on the chart with the song.
The BTS member also became the youngest Korean male soloist to chart on the Billboard Hot 100 and the highest-charting Korean soloist since PSY that year.
As one Twitter fan divulged, J-Hope has instant demand in the U.S. with no promo or performances, no announcement, and MINIMAL radio play- a DEBUT at 81 on the Hot100 is incredible.
During the idol's massive success with his solo track, Chicken Noodle Soup, charting on the Billboard Hot 100 chart is not the only accomplishment J-Hope achieved. The rapper also made waves on iTunes record. Since PSY, J-Hope became the second Korean artist to reach the No. 1 spot on the U.S. iTunes chart in 2019.
The BTS member also became the fastest Korean soloist to reach the No.1 spot. Although Big Hit Entertainment released free versions of "Chicken Noodle Soup" on multiple platforms, still, BTS fans bought the song on iTunes.
J-Hope achieving so many things with Chicken Noodle Soup is indeed no surprise. The rapper was the most followed Korean artist on Spotify even before the song's release. In September 2019, J-Hope surpassed 2 million followers on Spotify.
Notedly, J-Hope is the first Korean artist to achieve this, and he surpassed 2 million followers during that time while only having seven solo songs available on Spotify.
Big Hit's Flattering Idiom
Big Hit staff's official idiom for doing great is "호비있다" ("There's hobi in you" / "You've got hobi"). If one has been given these words, he is doing great even if there are no directions.
And with Taehyun being told with the flattering words, he promised to tell J-Hope he received the praise.