Celebrity
Kang Daniel, MONSTA X, IZ*ONE, ASTRO, & More To Grace The Free 'UNI-KON' Concert By 'UNIVERSE'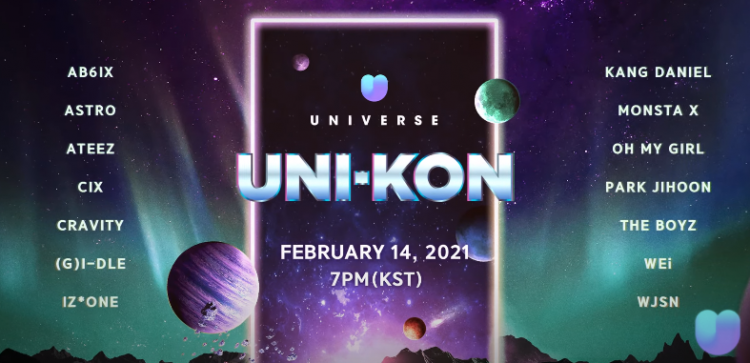 The forthcoming mobile playground brought by NCSOFT, called UNIVERSE, will give K-pop fans a free concert that features today's brightest idols. Check out the details!
UNIVERSE's UNI-KON for Valentine's Day
The highly anticipated mobile K-pop fan platform UNIVERSE announced its first-ever concert event called UNI-KON. The firm will be facilitating the show this coming February 14, Valentine's Day.
The concert will mark UNIVERSE's launch on January 28, showing off contents from its featured artists unlike any other.
The said launch will be on Google Play Store and App Store, leading for the event to take its place, which is for free for all its users. UNI-KON will kick off its event at 7 PM, following South Korea's time zone.
As usual, UNI-KON will be aired virtually due to the COVID-19 global pandemic. However, the crisis is not a hindrance for UNIVERSE to continue its operation, as it has been months since the fans have been waiting for the launch.
The official artist lineup for UNIVERSE's UNI-KON
According to Bandwagon Asia, UNI-KON will give prominence to a star-studded list of performers. The artists revealed to be in the show are Kang Daniel, ATEEZ, MONSTA X, (G)I-DLE, IZ*PNE, AB6IX, ASTRO, CIX, Cravity, The Boyz, WJSN, WEi, OH MY GIRL, and Park Jihoon.
The concert is part of NCSOFT's plan to bring fans closer to their respective favorites idols, of which all will go through the application UNIVERSE.
The upcoming K-pop fan mobile playground has collected a whopping 3 million pre-registrations from across the globe for the time being. It only proves the massive influence of K-pop on the global music stage.
As mentioned above, UNIVERSE can be obtained via Google Play Store and the Apple App Store once it officially launches.
To date, details on the upcoming UNI-KON free concert are still unannounced, but it will be released in the coming weeks via UNIVERSE's official website.