Awards
2020 MBC Entertainment Awards' Winners Announced: Yoo Jae Suk Bags The Grand Prize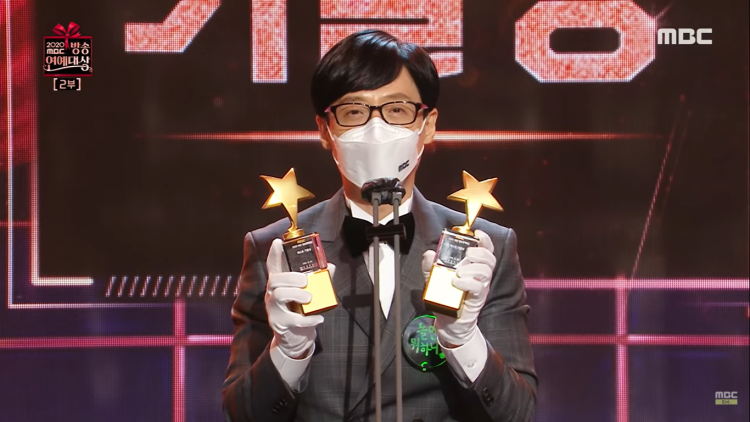 The 2020 MBC Entertainment Awards has finally awarded the variety stars and shows that lit up the network this year!
Among the daesang awards candidates included Kim Gu Ra, Lee Young Ja, Park Na Rae, Jeon Hyun Moo, and Kim Sung Joo. But among the big names, Yoo Jae Suk soared high and took home the grand prize.
On December 29, the 2020 MBC Entertainment Awards were held with Jun Hyun Moo, Jang Do Yeon, and Ahn Bo Hyun as MCs. The event was strict about implementing the restrictions to prevent the spread of COVID-19.
Everyone wore masks, social distancing was followed, individual partitions were set between tables, and trophies were placed on a table for the winners to pick up, reducing hand-to-hand contact.
Yoo Jae Suk Is On Top
During the night's ceremony, Yoo Jae Suk took home the Daesang (Grand Prize), following his notable work on MBC's "How Do You Play?" this year. It can be recorded that Yoo Jae Suk receiving the award is his seventh time from the MBC ceremony, including winning with the "Infinite Challenge" cast in 2007.
Yoo Jae Suk was almost out of words during his speech, but he somehow managed to share his gratitude and said that he didn't expect the award after 'Infinite Challenge.'
The Variety Star Wearing A Lot Of Gratitude
Yoo Jae Suk thanked his parents and father-in-law in the event and went on to thank his wife, saying, "I'm also so proud and grateful that I'm the husband of Na Kyung Eun."
The famous personality also shared his love for his children Ji Ho and Na Eun.
Yoo Jae Suk did not let the opportunity pass to thank the How Do You Play? producing director Kim Tae Ho and the entire staff members and producing directors. He shared, "I want to have dinner with you once COVID-19 calms down." He then continued expressing his thanks to many writers and staff.
Moreover, the variety star thanked Jo Se Ho, Lee Juk, Yoo Hui Yeol, Uhm Jung Hwa, Jessi, Hwasa, Jung Jae Hyung, Defconn, Kim Jong Min, and Rain. More than anything, he shared that he wants to give all the honor of the award to [Lee] Sang Soon, and to Lee Hyori.
Here is the list of winners of the 2020 MBC Entertainment Awards
Daesang (Grand Prize): Yoo Jae Suk ("How Do You Play?")
Entertainer of the Year: Park Na Rae, Kim Sung Joo, Lee Young Ja, Kim Gura, Yoo Jae Suk, Jun Hyun Moo
Variety Program of the Year: "How Do You Play?"
Top Excellence in Variety: MAMAMOO's Hwasa ("Home Alone" ("I Live Alone"), "How Do You Play?"), Sung Hoon ("Home Alone")
Top Excellence in Music & Talk: Lee Hyori ("How Do You Play?"), Yang Se Hyung ("The Paikfather," "The Manager," "Where Is My Home")
Top Excellence in Radio: Jung Sun Hee ("Jung Sun Hee and Moon Chun Shik's Radio Era Now")
Excellence in Variety: Son Dam Bi ("Home Alone"), Jang Do Yeon ("Home Alone"), Boom ("It's a Relief if We Don't Fight," "Where Is My Home")
Excellence in Music & Talk: Uhm Jung Hwa ("How Do You Play?"), Jessi ("How Do You Play?", "The Manager"), Kim Jong Min ("Nation of Trot," "Those Who Cross the Line: Returns," "How Do You Play?")
Excellence in Radio: Lee Yoon Suk ("Lee Yoon Suk and Jeon Young Mi's Good Weekend"), Lee Ji Hye ("Lee Ji Hye's Afternoon Discovery")
PD Award: Baek Jong Won ("The Paikfather")
Best Couple: Yoo Jae Suk, Lee Hyori ("How Do You Play?")
Achievement Award: Kim Gook Jin ("Radio Star")
Best Teamwork Award: "The Manager"
Popularity Award: Ahn Young Mi ("Radio Star")
Special Award: Judges of "Nation of Trot"
Best Format Award: "The King of Mask Singer"
Digital Content Award: Park Na Rae, Han Hye Jin, Hwasa ("Home Alone: Girls' Secret Party")
Best Dresser Award: Norazo ("The Paikfather," "The Manager")
Writer of the Year: Choi Hye Jung ("How Do You Play?")
Rookie Award: Ko Eun Ah ("The Manager"), Kim Kang Hoon ("The King of Mask Singer," "Those Who Cross the Line: Returns," "The Manager")
Rookie Radio Award: Kang Soo Ji ("Kang Soo Ji's Wonderful Radio"), Jun Hyosung ("Jun Hyosung's Dreaming Radio"), Pyo Chang Won ("Pyo Chang Won's News High Kick")
Special Award for Current Events and Cultural Programs: Kim Han Seok, Kim Jung Geun, Park Yeon Kyung ("Good Day")
Writer of the Year for Current Events and Cultural Programs: Park Min Jung ("Humanimal")
Special Award for Radio: Im Jin Mo ("Bae Chul Soo's Music Camp"), Kim Eun Ae ("57 Minute Traffic Report," "Weather and Life")
Writer of the Year for Radio: Kim Kyung Ok ("Bae Chul Soo's Music Camp")
Radio Contribution Award: GS Caltex