Video
WATCH: 'Start-Up' Star Kim Seonho Delightedly Unboxes BTS Jimin's 'DICON' Photobook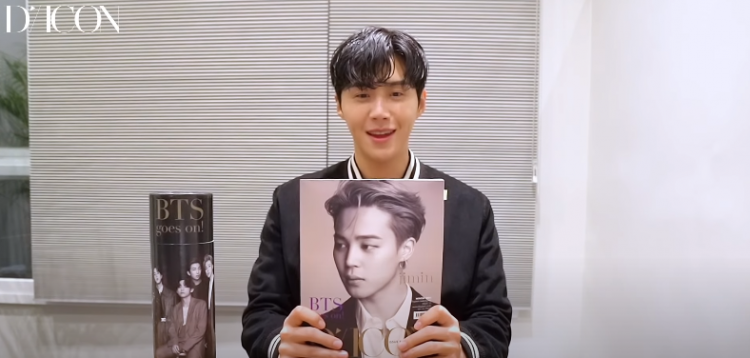 The Kings are in one video and fans are loving it!
Kim Seonho supports BTS Jimin through an unboxing video
The South Korean Kings support each other with top actor Kim Seonho, who emerged his star from slumbering through his role in the recently concluded tvN drama series Start-Up, delightedly graced a video that talks about Jimin.
Moreover, the top idol BTS Jimin did not appear in the video in-person as Kim Seonho only had to unbox his DICON BTS photobook package, per Allkpop.
Kim Seonho unboxes BTS Jimin's DICON photobook feature
The entertaining video of Kim Seonho unboxing BTS Jimin's DICON photobook package was uploaded on Dispatch Korea's Youtube channel, Deaser. The almost three-minute video sees Kim Seonho putting out his remarks on the feature of Jimin, of which fans were mesmerized.
Kim Seonho shared that Jimin's magazine is cool, and the idol looks good on it. Also, Kim Seonho highlighted that he is thrilled to be on the unboxing video, and being the one to unbox Jimin's magazine is enthralling.
In the video, Jimin was asked to pick his most favorite photo of Jimin, of which he gladly scanned throughout and picked.
"This is how a sexy man looks like," the caption of one photo feature reads on the magazine. That said, Kim Seonho picked the said photo revealing he will be using Jimin's shots in his future magazine endeavors, according to Nfisa.
Talking about his future magazine stints, it is no doubt that he will sort of copy Jimin's aura, as he always wanted to try a sexy look.
Meanwhile, both artists Kim Seonho and BTS Jimin are the kings of the brand reputation ranking in their respective categories. They both best ensemble the true king, by heart and by actions.