Video
WATCH: 'Alice' Star Kim Hee Sun Gushes Over BTS Jungkook In The 'DICON' BTS Photobook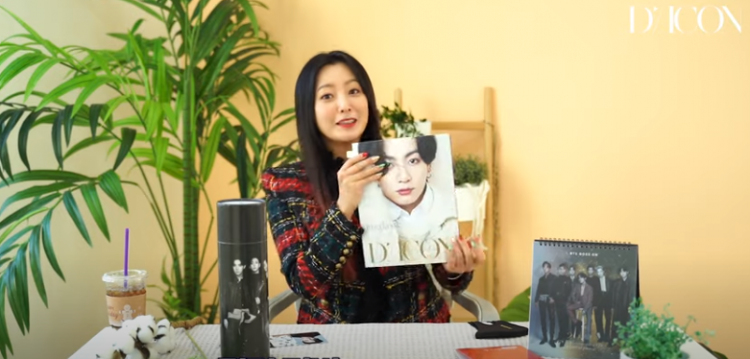 South Korean actress Kim Hee Sun, who starred in Sci-Fi series titled Alice, is a proud ARMY as she unboxes BTS's photobook via DICON.
She is a Jungkook bias, as apparent in how she gushes over the golden maknae during the unboxing video. Check it out here!
Kim Hee Sun fangirls over Jungkook an unboxing video
43-year-old actress Kim Hee Sun shares the same admiration and enthusiasm level with the ARMYs as she unboxed the DICON BTS photobook package.
As per Allkpop, the unboxing video happened on December 26 (Saturday), where the actress shared one of the precious moments of being a fangirl. The moments talked about came to ARMYs through Instagram and the official Youtube channel of Dispatch.
On the other hand, Kim Hee Sun shared her experience on her personal Instagram account, posting a photo of her gripping the magazine with Jungkook as the cover. She wrote in the caption, "A belated Christmas gift. I received Jungkook(who I really like) 's pictorial in advance. #Christmaspresent #Dicon #unboxing #BTS #Doe-eyed #upliftingpicture #kpop."
The unboxing video by Kim Hee Sun
The almost 5-minute video graced by the actress had her candidly express her feelings and appreciation to the Euphoria singer. She remarked Jungkook as a cool person, and amid being already good looking, the idol showed a different side of him in the magazine's shots.
"In fact, I'm a big fan of Jungkook, and I think he has the most beautiful eyes. I love his innocent doe eyes," Kim Hee Sun added, and as stated by Kpopchingu.
This is the first time Kim Hee Sun declared herself as a fan of Jungkook since she rose to fame for her roles in hit films Bichunmoo in 2002 and The Myth in 2005. Kim Hee Sun also starred in movies for this decade for Faith, Angry Mom, and The Lady In Dignity, among others.