Celebrity
Seohyun Flaunts Flawless Figure in Form-Fitting Dress: Spot the Differences!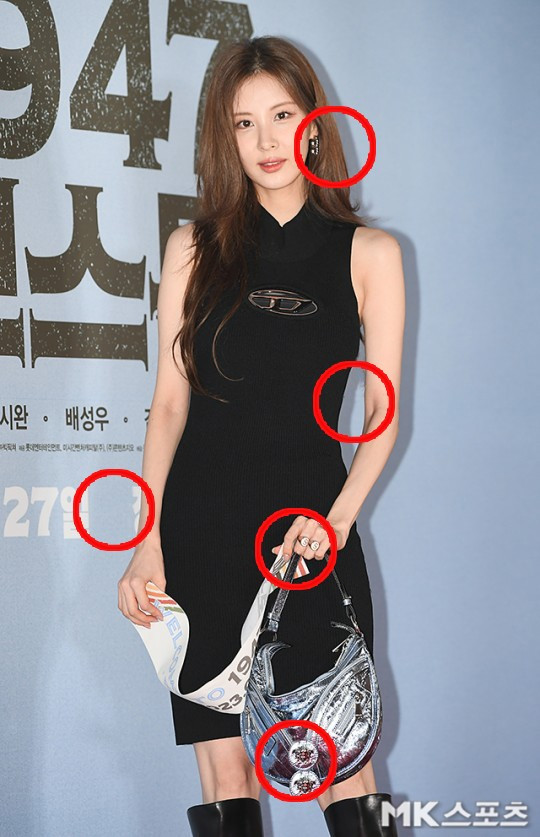 Girls' Generation's Seohyun showcased her impeccable, slim figure in a form-fitting dress.
On the afternoon of September 11th, the VIP screening of the movie '1947 Boston' took place at Lotte Cinema World Tower in Songpa District.
Seohyun, who attended the VIP screening, proudly displayed her slender physique in a sleeveless form-fitting dress as she struck a pose.
Can you spot the 5 differences in Seohyun's photo?
The movie '1947 Boston' is an emotional true story depicting the challenges and heartwarming journey of marathon runners who, for the first time after the 1947 liberation, wore the Taegeuk mark to compete in an international competition. Ha Jung-woo plays the role of Coach Son Ki-jung.
The VIP screening was graced by the presence of celebrities including Ahn Bo-hyun, Lee Sun-bin, Jo Yu-ri, Kim Seol-hyun, Kim Ye-won, Sistar's Bora, Lee Si-woo, Lallal, Lee Na-yeon, Nam Hee-doo, The Grace's Sunday, Jeon Hye-bin, Lee Sa-gang, Ron, Kim Ri-won, Girls' Generation's Seohyun, Kim Ui-sung, Cha Ju-young, announcers Lee Seung-hyun, Kim Bo-min, Kim Jin-hee, Jeon Hyo-sung, Park Yoon, Lee Ji-hoon, Lallal, Juniel, Ham Eun-jung, Taemi, Adora, Ji Ol-park, Kim Hye-eun, Park Ji-min, Yang Dong-geun, and many more.
Directed by Kang Je-kyu, '1947 Boston' is set to be released this upcoming Chuseok.
Have you found all 5 differences in Seohyun's photo?
Here are the answers:
The earring.
The strand of hair visible behind her arm.
The ring.
The decoration on the handbag.
The character '일' on the left side of the photo.