Celebrity
BLACKPINK's Rosé Dazzles at RIMOWA Event, Setting Instagram Alight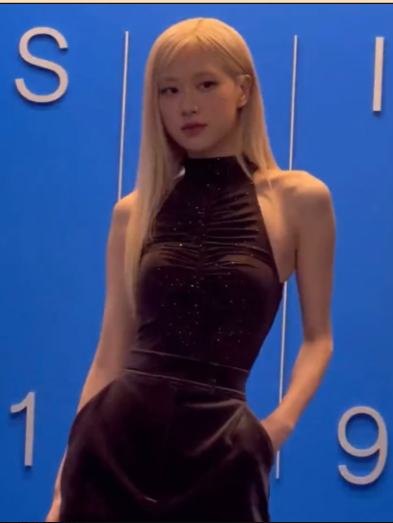 In the vibrant world of K-pop, BLACKPINK's Rosé has consistently stood out, not just for her musical prowess but also for her sartorial elegance. Known for her statuesque beauty and impeccable proportions, Rosé's fashion choices have always been a topic of admiration among fans and fashion enthusiasts.
Recently, the K-pop sensation graced an event hosted by the luxury brand RIMOWA, where she proudly represents as a global brand ambassador. The anticipation was palpable as Rosé teased her followers with a glimpse of her invitation and the event's gifts on social media. But it was her arrival at the venue that truly stole the show.
BODY. pic.twitter.com/tl4Iaqt50v — rosé loops (@roseyloops) September 8, 2023
Captured in a video by Elle Korea, Rosé made a grand entrance in a mesmerizing halterneck gown. The outfit, combined with her ethereal beauty, ensured she was the cynosure of all eyes, with cameras flashing from every direction to capture her elegance. The evening saw her taking center stage, even having the honor of cutting the ceremonial ribbon.
The internet was soon flooded with images and videos from the event, with netizens being particularly smitten by Rosé's attire that perfectly complemented her blonde locks. The dark-hued ensemble, accentuated with intricate detailing, might have leaned towards simplicity, but it was Rosé's charisma and visuals that truly illuminated the evening.
Social media was abuzz with comments praising her. Some of the remarks included:
"Rosé's proportions are absolutely unreal! She looks like a goddess."
"Her fashion choices always complement her figure so well. She's a style inspiration."
"Her confidence and elegance shine through in every photo. Rosé is slaying!"
"Rosé is setting new beauty standards with her flawless body."
"Rosé's visuals are on another level. She's truly one of a kind."
It's evident that wherever Rosé goes, she leaves an indelible mark, reinforcing her position as a fashion and entertainment icon. Her presence at events like these not only showcases her individual style but also underscores why brands are eager to have her as their ambassador.
In a related note, the internet is rife with rumors of a potential collaboration between BLACKPINK's Rosé and former One Direction member Zayn Malik, further adding to the excitement around the K-pop star.
In the ever-evolving world of entertainment, Rosé continues to set benchmarks, proving time and again why she remains a force to be reckoned with.