TV
BTS's V Reveals Heartwarming Gesture for His Father and His Cool Relationship with Siblings on 'You Quiz on the Block'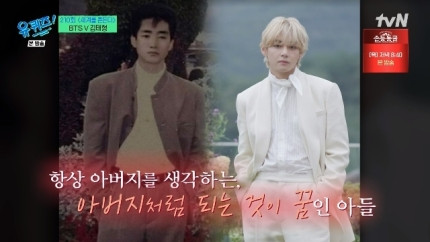 BTS's V touched hearts and evoked laughter with stories about his family.
On the September 6 episode of tvN's variety show 'You Quiz on the Block', BTS's V made a guest appearance for its 210th episode special titled 'Shaking the World'.
During the show, V revisited a past statement he made on 'You Quiz', saying, "My dad is my dream." He recalled, "I think my dad cried watching that broadcast. I watched it live too, and when my dad called, he seemed to be holding back tears, saying, 'You did well.'"
When the topic of his father's looks came up, V humorously remarked, "He used to be really handsome, but not so much these days." He also shared a frequent saying of his father's, "Only family remains," which led to a burst of laughter.
Host Yoo Jae-suk suggested that if V were to do a travel content show following 'Seokjin's Place', it could be titled 'Taehyung's Place', and V could travel with either the BTS members or his family. V humorously recommended the title, "Only Family Remains."
V confessed a touching gesture he made with his first paycheck. He said, "My dad had been selling clothes for a very long time. He used to travel to Dongdaemun in Seoul early in the morning to get clothes to sell. Over time, the car's odometer reached 500,000 km. I felt I needed to get him a new car, so I gifted him a new one."
When asked if his father had since changed cars, V replied, "Yes, he changed it twice," proudly showcasing his filial piety.
V continued, "I felt all of my father's hardships in those 500,000 km. I always remind myself to be a good son, and I can see my dad thinking he should be a good father to me. It hurts to see him like that. Of course, he might not have wanted a new car, but I wanted to do something for him. I wanted to help. I don't know. I don't like seeing my dad cry, so he might have cried behind my back. It's natural since he's my dream."
Despite his deep affection for his parents, V shared that he has a laid-back relationship with his younger brother and sister. When asked if his siblings brag about him to their friends, V firmly stated, "No, they never mention it."
In fact, V revealed that he communicates with his siblings only once or twice a year and they don't even celebrate each other's birthdays. "We only celebrate our parents' birthdays. We have a group chat where we just ask, 'What are you doing?'" V added.
Regarding his siblings' reactions to BTS's achievements, like topping the Billboard charts, V said, "There's absolutely no reaction. They seem clueless." When asked if his siblings ask for an allowance, V humorously revealed, "They only call me 'big brother' when they want something," causing laughter. (Photo = tvN 'You Quiz on the Block' screenshot)