Music
BTS Jungkook Sets Record with 'Seven' as Fastest Male Artist to Reach 500 Million Streams on Spotify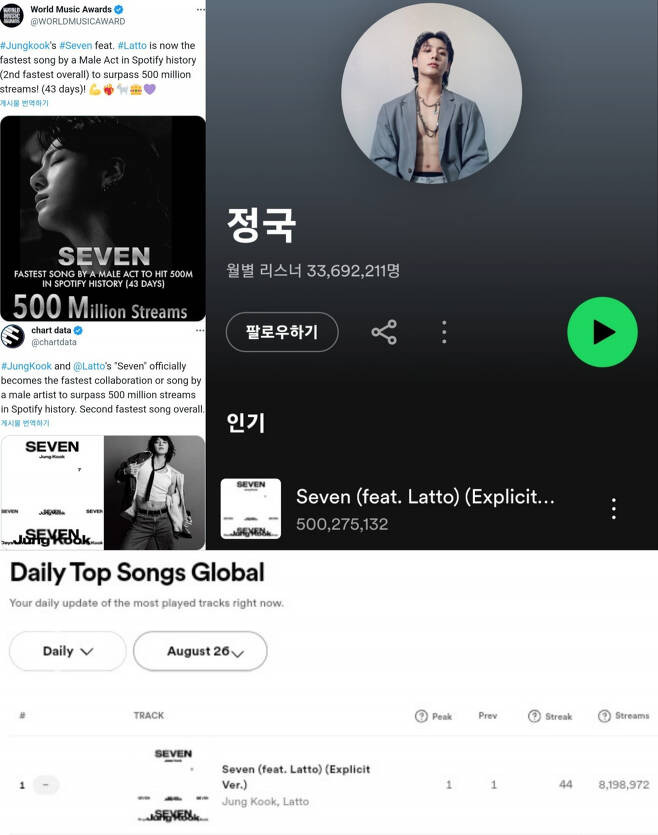 BTS's Jungkook has set a monumental record with his solo single 'Seven', becoming the fastest male artist in Spotify's history to achieve 500 million streams worldwide. The single, which was released on July 14th, recently surpassed the half-billion streaming mark on the world's largest music streaming platform, Spotify.
'Seven' impressively amassed a total of 527,513,132 streams (pre-filtering) in just 43 days after its release, showcasing its immense streaming power.
According to the 'World Music Awards' (WMA), often referred to as the "European Billboard", and 'chart data', which provides real-time updates on music charts worldwide, Jungkook's 'Seven' broke the record for the fastest 500 million streams by a male artist in Spotify's history. Furthermore, it ranked as the second-fastest song ever to reach this milestone, considering all artists globally (both groups and soloists included).
Previously, 'Seven' shattered records by reaching 100 million streams on Spotify in the shortest time ever, just within 6 days (pre-filtering). It continued its streak by achieving 200 million streams in a record 14 days, 300 million in 23 days, and 400 million in 33 days for a male artist.
Jungkook, with 'Seven', has also made history as the first and only Asian artist to top Spotify's 'Weekly Top Global Songs' chart for six consecutive weeks and maintain the #1 position on the 'Daily Top Global Songs' chart for 43 days. This further solidifies the track's status as a 'mega-hit' on the platform.