Music
BTS's Jungkook Dominates 'Music Core' Without Appearance, Jihyo's Solo Launch & AKMU's Grand Return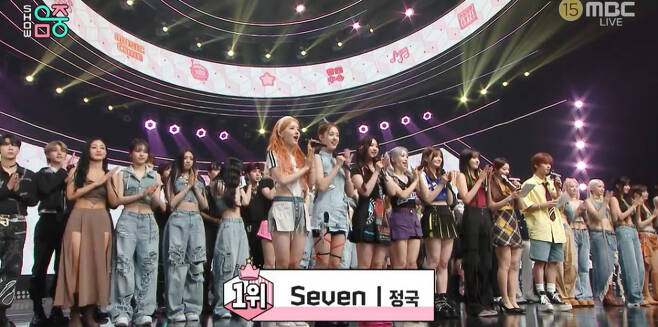 BTS's Jungkook has secured the top trophy on 'Show! Music Core'.
On the afternoon of August 26 (KST), MBC's 'Music Core' showcased Jungkook reigning supreme for the last week of August.
Although Jungkook couldn't attend 'Music Core', global ARMYs (fandom name) have been pouring in with congratulatory messages upon hearing the news of his win. Jungkook released his first solo single "Seven (feat. Latto)" on the 14th of last month.
AKMU, who released their fourth single "Love Lee" on the 21st, made their comeback on 'Music Core'. Chanhyuk expressed, "It's fun to dance and make lovely expressions on stage after such a long time. I hope the fans enjoy it too." Suhyun added, "It's been years since we've been on a music show, and it feels new and happy to meet our fans again." Their new album 'Love Lee' actively reflects Suhyun's input. She described the album as a light and fun return, setting aside the intense musical endeavors AKMU has pursued so far.
Regarding the title track of the same name, Chanhyuk introduced it as "something you can see as a second version of our debut song '200%'. It's a song that anyone can listen to lightly and feel good."
When asked when they find each other most endearing, Chanhyuk said, "When Suhyun sings really well on stage and succeeds in live performances," while Suhyun humorously added, "I think it's adorable when he wears his mask halfway, but even more so when it's pulled down to his chin."
Jihyo, who made her solo debut for the first time since her group's debut, also graced 'Music Core'. She expressed, "I feel so relieved that the album I worked hard on is out in the world. I'm enjoying performing on stage." Jihyo further introduced her new album 'ZONE' and its title track 'Killin' Me Good', released on the 18th, saying, "It contains a total of seven tracks. I tried to capture various voices. The title track was lyrically penned by producer Park Jin-young. It's an exciting song with lovely lyrics and powerful choreography."
'Music Core' featured performances from TVXQ's U-Know Yunho, Girls' Generation's Hyoyeon, AKMU, TWICE's Jihyo, Jeon Somi, THE BOYZ Special Unit, ITZY, EVERGLOW, STAYC, VANNER, PLAVE, TripleS LOVElution, xikers, Lee Chan-won, and n.SSign.